Pumpkin Granola (nut-free)
I have a stand-by pumpkin granola that is out of this world, but I really wanted to have one that was nut-free.  This one uses a variety of seeds, and gets it's rich flavor/texture from sunflower seed butter.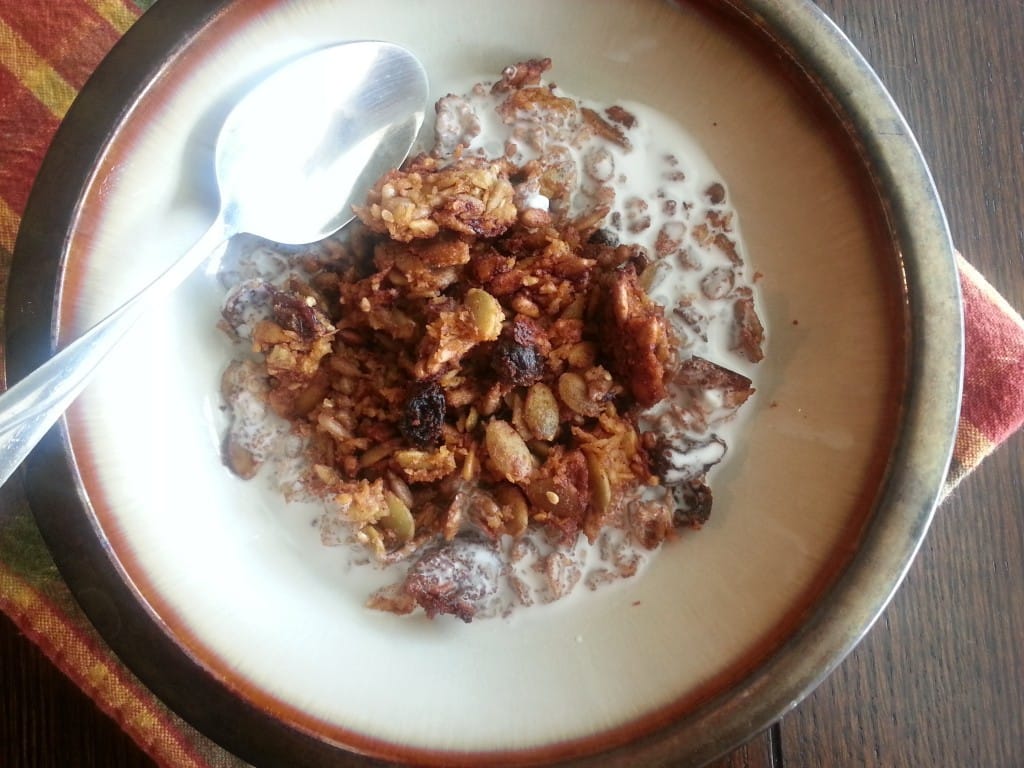 Ingredients
1/4 cup coconut oil
2 tbsp. coconut nectar
1/4 cup sunbutter
1 tsp. vanilla extract
2 tbsp. pure pumpkin puree
1 tsp. pumpkin pie spice
1/2 cup pumpkin seeds
1/2 cup roasted & salted sunflower seeds
1/3 cup plain raw sunflower seeds
1/2 cup unsweetened shredded coconut
1 tbsp. sesame seeds
1/2 cup raisins
Directions
Preheat oven to 350 degrees.
Combine the coconut oil, coconut nectar, sunbutter, vanilla extract, and pumpkin puree in a small saucepan over medium heat. Continue to whisk occasionally, until it is well blended.
Meanwhile, mix the pumpkin seeds, sunflower seeds, sesame seeds, shredded coconut and raisins together in a medium-sized bowl.
Whisk the pumpkin-pie spice into the warmed sunbutter mixture, and remove from heat. Allow this mixture to cool slightly.
Once cooled, pour it into the bowl with all of your seeds/coconut/raisins. Mix well.
Line an 8×8 baking pan with parchment paper. Pour in your mixture, spread it out evenly, and press it down with your hands.
Bake in the oven for 30-35 minutes.
Remove it from the oven and allow it to cool for a while on a wire rack. Break it apart into large chunks and store in an air-tight container.