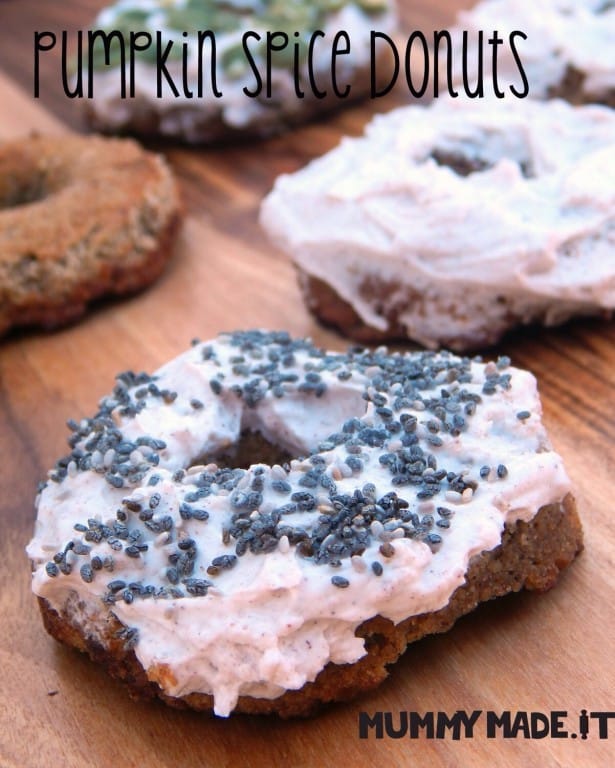 Ingredients
Pumpkin Spice Donuts: 1/4 Cup Almond Butter (see notes)
1 Egg
1 1/2 Tablespoons Maple Syrup
1/4 Cup Pumpkin Purée (see notes)
1 teaspoon Vanilla Extract
1/2 Cup minus 1/2 Tablespoon Milk (of choice)
3/4 teaspoon Baking Powder
Dash Bicarb
1/3 Cup Coconut Flour
1 teaspoon Cinnamon
2/3 teaspoon ground Ginger
1/2 teaspoon Nutmeg
Dash Allspice
Dash Cloves
Frosting: Spiced Maple Cream (see recipe below)
Pumpkin and Chia Seeds for sprinkles
Spiced Maple Cream: 1 can Coconut Cream/Milk (440ml) lid removed and placed in the fridge overnight
3 teaspoons Maple Syrup
1 teaspoon Vanilla Extract
2 teaspoons Mixed Spice
Directions
Pumpkin Spice Donuts: Preheat the oven to 210C/420F. Spray a donut pan. If. You don't have a donut pan a cake pop pan, small bundt pan or little muffin tray may also work but cooking times may vary.
In the bowl of a kitchen stand mixer (all these steps can also be done by hand with a spoon and a mixing bowl) beat the almond butter and maple syrup until combined. Add the eggs and puréed pumpkin and beat on medium until combined. Stop and scrape down the sides of the bowl 1/2 way through beating to ensure it all gets mixed in. Add the milk and vanilla extract and beat until combined. In a separate bowl, sift the dry ingredients (including the spices) together. Add the dry ingredients to the bowl and beat until the mixture is combined and fluffy (about 1 minute).
Transfer the mixture to a piping bag/freezer bag and cut a medium size hole in the corner. Re spray the donut pan. These donuts tend to stick to the pan so over grease!! Pipe the donut mixture into 8 donuts. You can spoon/pour straight from the mixing bowl but it can be quite messy. Immediately place in the oven and bake for 10 minutes. Allow the donuts to cool in the tray for at least 10 minutes before removing. The donuts can be frosted once cooled. If using the Spiced Maple Cream the donuts will need to be stored in the fridge. The Donuts can also be glazed with Ganache, Frosting or Caramel Sauce.
Spiced Maple Cream: Remove the thickened cream from the can and discard the watery remains. Place the cream into the bowl of a kitchen stand mixer with a whisk attachment fitted. Add the remaining ingredients and whisk on high until thick and all the ingredients are incorporated (this may take up to 5 minutes). Allow the cream to thicken in the fridge before using.