Pumpkin Spice Loaf with Cinnamon Frosting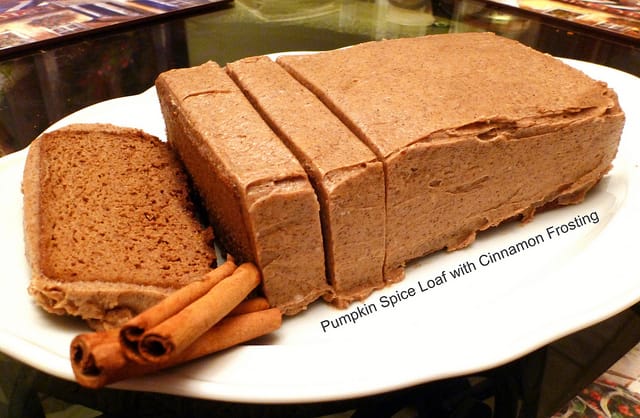 Ingredients
1 cup almond butter
1 cup organic pumpkin puree
2 eggs (free-range)
1/4 cup raw honey
2 tsp pumpkin pie spice, 1 tsp vanilla extract
3/4 tsp baking soda
CINNAMON FROSTING: 1/2 cup butter (goat, or organic cows), 1 tbs cinnamon, 1 tbs vanilla extract, 1 tbs raw honey
Directions
Pumpkin Spice Loaf: Pre-heat oven to 350 degrees.
In a large mixing bowl combine all ingredients and mix well with a hand mixer.
Pour batter into a bread bad greased with coconut oil.
Bake in the oven for 45 minutes.
Remove pan from oven and allow to cool. Place the pan in the fridge and make Cinnamon Frosting (see below) while the loaf continues to cool.
Gently remove loaf from baking pan. Using a butter knife or spatula, cover entire loaf with Cinnamon Frosting. Serve and enjoy! Store extras in fridge.
Cinnamon Frosting: In a medium sized mixing bowl combine all ingredients. Blend using a hand mixer until the mixture becomes a fluffy whipped frosting (approx 2-3 min).
Spread frosting on cooled Pumpkin Spice Loaf.