Pumpkin Spice Pancakes created by Food by Katie
Tis the season for pumpkin!  This time of year, I think I consume pumpkin at least 2 times a day in some way, shape or form. The pumpkin season only comes once a year so you might as well take advantage of it!
These paleo pancakes are absolutely delicious. The outside has a nice golden brown crisp while the inside is chewy and moist. I topped mine with apple butter and crushed pecans while my husband topped his with fresh whipped cream, butter and maple syrup. He loves this recipe!
I hope you enjoy…..with a cup of coffee of course!
Recipe Notes:
*Lakanto is a no calorie sugar substitute that is made from the erythritol and  a medicinal fruit called luo han guo. In my opinion, this is the best zero calorie sweetener out there. You can read more about it and purchase it here: http://bodyecology.com/sugar-substitute-lakanto-sweetener.html
**If you use melted coconut oil instead of grapeseed oil, make sure you add it very slowly while stirring at the same time. This will avoid clumping as the coconut oil hardens when its mixed with the cooler ingredients. This will also keep the coconut oil from cooking the eggs.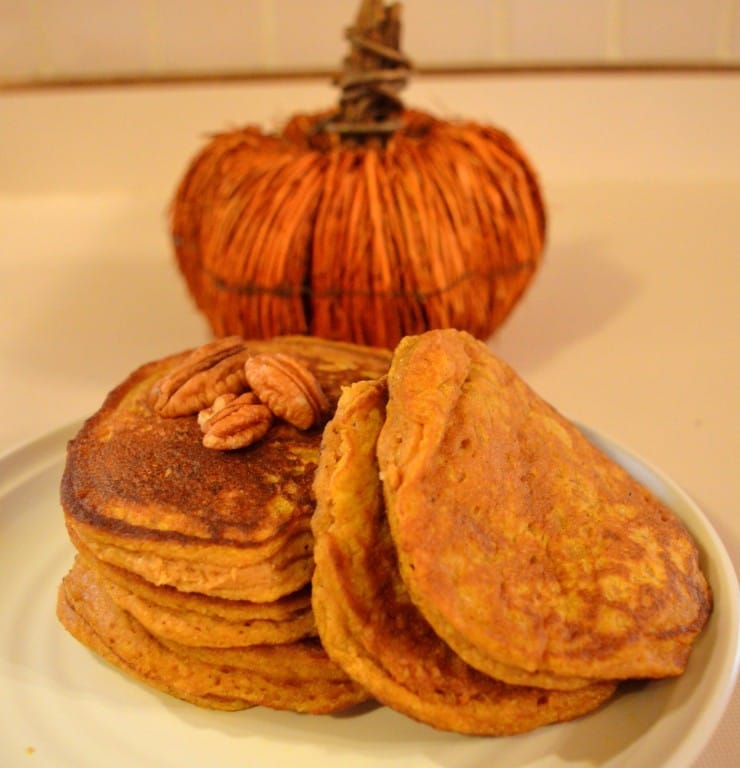 Ingredients
1/2 cup tapioca flour
1/4 cup coconut flour
1/4 cup almond flour
1/2 tsp. baking powder
1/4 tsp. baking soda
1 tsp. pumpkin pie spice
1/2 tsp. cinnamon
1 tsp. Lakanto* or granulated sweetener of choice.
pinch of salt
1/2 cup canned pumpkin
2 eggs
1 Tablespoon grapeseed oil or melted coconut oil**
2 Tablespoons maple syrup
1/2 cup almond milk (or milk of choice)
1 tsp. vanilla
coconut oil (for frying)
Directions
In a large bowl, whisk all dry ingredients together until well mixed.
In a medium bowl, mix all of the wet ingredients together (except for the coconut oil used for frying) until the mixture looks uniform.
Add the wet ingredients to the dry ingredients and mix until smooth and uniform.
Heat coconut oil in a large skillet over medium heat. Pour about 1/4 cup pancake batter into the pan for each pancake. Cook for 2 – 3 minutes on each side or until pancakes are golden brown on both sides.
Serve with desired toppings! Yum!