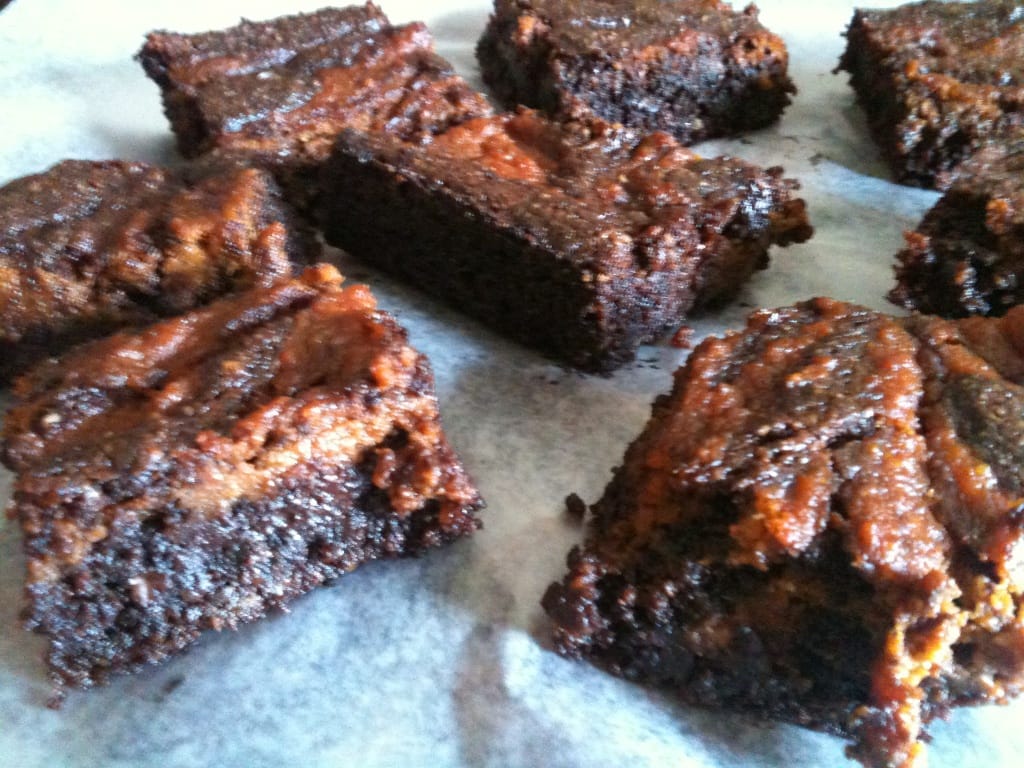 Ingredients
Brownies: 16 oz of walnuts
1 free range egg
1/2 cup honey
1/2 cup baking cocoa
1 t pure vanilla
pinch of sea salt
1 t baking soda
2 oz Enjoy Life chocolate chips
2 T olive oil
Pumpkin Mix: 1 can of pumpkin puree
1/3 cup honey
1 T cinnamon
1 t baking soda
1 free range egg
1/4 cup almond flour
Directions
Brownie Prep: Preheat your oven to 350 degrees F Combine walnuts in a food processor (I added a tad of olive oil) and blend until it has the texture of almond butter In a large bowl combine all ingredients (minus the chocolate chips) and mix until smooth, then stir in the chocolate chips. Set aside.
Pumpkin Mix Prep: In a separate bowl from the brownie mixture combine all ingredients mix until smooth.
Cooking Directions: Lightly grease a 9x13 cake pan. Pour in the 3/4 of the brownie mixture into the pan and spread evenly. Set aside the other 1/4. Take heaping spoonfuls of the pumpkin mixture and place on top of the brownie mixture in the pan until all pumpkin mix is used. Then add the rest of the brownie mix on top of the pumpkin (I put spoonfuls in the center of the pumpkin globs) take a knife and run it side to side (length wise) through the mixture making the chocolate and the pumpkin swirl bake for 30-45 minutes (I was a little iffy on the time because I was not sure how long it would take to cook all the way through- but I have a friend who tells me it\'s done when you can smell it- so follow your nose!) let cool and enjoy!