Pumpkin, Walnut & Chocolate Chip Muffins
Soft, tender, and moist with chunks of Chocolate & Nuts in every bite.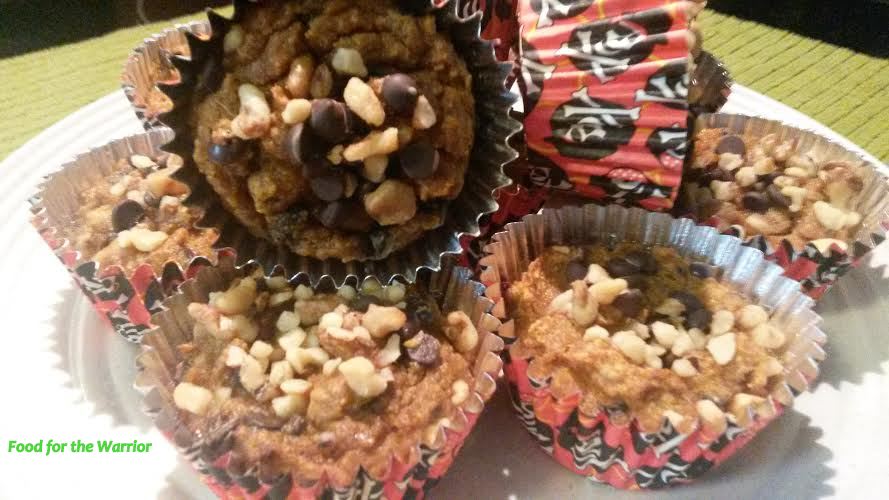 Ingredients
1/2 cup of Farmers Market Organic Pumpkin Pie
3 Large Eggs
1/4 cup of Coconut Oil, melted
1/4 cup of Coconut Nectar
1/2 cup of Coconut Flour
1/2 tsp of Cinnamon
1/4 tsp of Nutmeg
1/4 tsp of ground Cloves
1 tsp of Pure Vanilla Extract
1/2 tsp of GF Baking Soda
1/2 tsp of GF of Baking Powder
1/2 cup of Enjoy Life Foods Mini Chips, plus some for extra (Gluten, Soy, Dairy & Nut Free)
1/2 cup of Walnuts, chopped for topping
Directions
Pre~heat your oven to 350*. Line your cupcake tin with Aluminum Tin liners.
In a medium size bowl combined all the dry ingredients and set aside. In a small bowl mix together the eggs, pumpkin, Nectar, Vanilla & coconut oil. Combined the wet ingredients into the dry ingredients, making sure to mix well. Fold in the mini chips, fill your tins 1/2 way. Top each tin with some Walnuts and Chocolate Chips. Bake for 20-25 minutes or until a toothpick comes clean. Enjoy.