Place a deep oven tray in the oven and pre-heat to 400F (200C) with the broiler turned on.
Peel and dice the rutabaga, parsnips, sweet potatoes and onions in equally sized cubes and put them in a large bowl.
Drizzle a little bit of olive oil over the diced root vegetables and season with salt and crushed black pepper, then stir so it gets mixed well.
Pour the diced root vegetables on to the hot deep oven tray, and spread it out in an even layer.
Place the tray on the top level under the broiler and cook until the pieces are softened.
(Note: the rutabaga is the hardest of them, so that's your indicator on when they're done…)
You need to keep an eye on it so they won't burn under the broiler. Open the oven door about every 10 minutes to let steam out and at the same time stir the pieces around and you should be safe from burning them.
It should take about 20-30 minutes for them to get done.
Meanwhile heat up a frying pan while trimming the pork tenderloins, and dice them into cubes about the same size as the root vegetables.
Put the diced bacon in the pan and fry for a few minutes, then add the diced pork. Season with crushed black pepper and fry until done and nicely colored.
Take the pan with the root vegetables out of the oven, add the pork and bacon, sprinkle the chopped parsley over it and stir one last time to make sure everything is evenly mixed.
Done!
Note: if you're making a smaller batch you could of course cook it all in the frying pan.
I served this with fried eggs (fried on one side only because it's just awesome to pop the yolk and let it mix with the pyttipanna!) and sliced beets that I had laying covered in a 50/50 mix of white balsamic vinegar and water over the day.
——-
NOTE: If you have questions or comments you wish me to respond to, please post them at the original post at the blog: http://strictlypaleoish.wordpress.com/2012/11/25/pyttipanna/
[ingredients]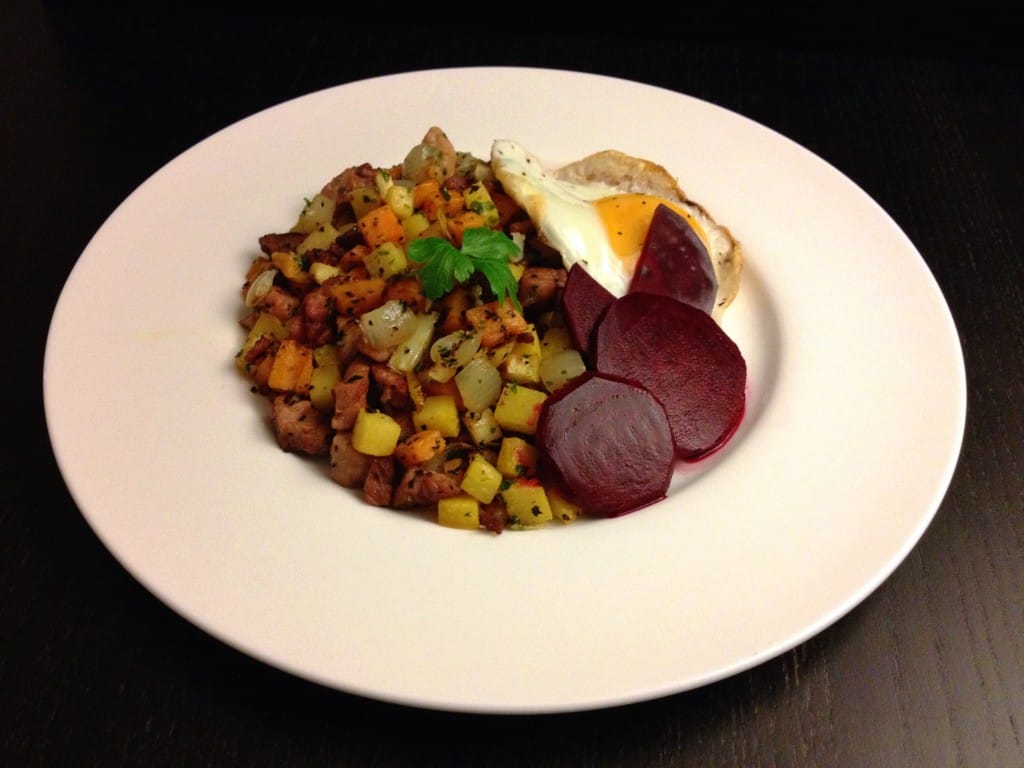 Ingredients
1/2 Rutabaga
3 large Parsnips
2 Sweet Potatoes
3 Onions
1 oz (180 g) diced Bacon
2 Pork Tenderloins
1/3 cup (0.75 dl) chopped Parsley
Salt and Pepper (to taste)
Extra Virgin Olive Oil
(OPTIONAL SIDES: Beets, White Balsamic Vinegar, Water, Eggs)