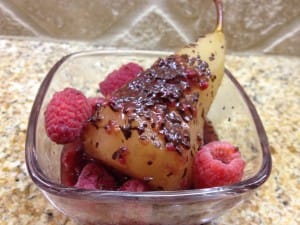 Ingredients
Small amount of flaked dark chocolate
Small Container of Raspberries
5 Cloves
1 Cinnamon Stick
1/2 Lemon
1 Vanilla Bean
Honey
Coconut Oil
4 Pears
Directions
It is easiest to poach the pears ahead of time. They last up to 5 days in the refrigerator and you just have to take them out and get them to room temperature before heating them up again. To poach add about a quart of water to a stock pot. Add in cloves, cinnamon, lemon, vanilla bean and about 1/2 cup of honey.
Once it is gently boiling, add peeled pears. To keep the pears from browning, place parchment paper over the top of the water with a small hold cut out in the middle (to allow for steam to exit). Let simmer at a low boil for about 30 minutes. In a small saucepan, add about 1 cup of honey, 1/4 cup coconut oil and a small container of raspberries.
Stir occasionally until it is a sauce-like substance (about 20 minutes). To plate the dessert, add the poached pear and drizzle over with the raspberry sauce and add a couple fresh raspberries for garnish. A little chocolate flakes on top and serve.