Base Layer:
· 2 cups cashews
· 2 TBS coconut oil
· 2 TBS maple syrup
· Pinch sea salt
Blend cashew nuts in a food processor into a nut flour-crumble. Add in coconut oil, maple syrup & sea salt. Blend. Pat down into a rectangle on wax paper, freeze.
Middle Layer:
Raw Vegan Caramel:
· 1 cup raw almonds
· 6 medjool dates
· 1/2 cup maple syrup
· 2 TBS melted coconut oil
· 1/2 tsp vanilla
· 3 pinches sea salt (I ♥ Salty Caramel)
* Reserve for topping:
· 1/2 cup chopped almonds (sprouted are the best!)
Blend almonds into a fine powder in your food processor. Add in dates, maple syrup, melted coconut oil, vanilla & sea salt. Blend into a sticky caramel. Spread caramel out over frozen cashew base. Press in 1/2 cup chopped almonds. Freeze for 1 hour.
Basic Raw Chocolate Recipe:
1 Cup Raw Cacao Butter* (melted)
1 Cup Raw Cacao Powder
1/2 Cup Coconut Palm Sugar (powdered in coffee grinder) or you can use Maple Syrup
Melt cacao butter in a food dehydrator or double boiler. Stir all 3 ingredients together, into a smooth melted chocolate sauce.
Cut cashew/caramel block into small "fun size" candy bar pieces. Dip each bar into the raw chocolate, then set on wax paper and freeze to firm up. Make sure to "double dip" each piece again after the first layer of chocolate has set. I like to store these treats in the freezer!
*You can easily substitute coconut oil for the cacao butter, and make great raw chocolates, they just won't be as shelf stable, so keep them chilled!
[ingredients]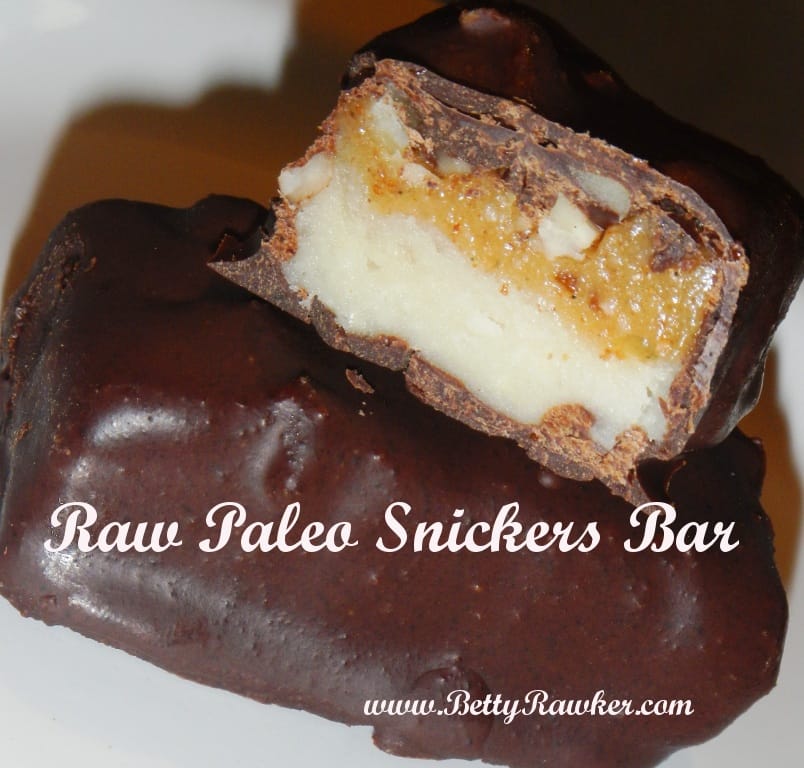 Ingredients
2 cups cashews
2 tablespoons coconut oil
2 tablespoons maple syrup
pinch sea salt
1 cup raw cacao butter (or use coconut oil)
1 cup raw cacao powder
1/2 cup coconut sugar (powered in coffee grinder) or use maple syrup