Base Layer:
1 cup dried coconut
1/2 tsp vanilla
1/2 tsp cinnamon
pinch sea salt
1 cup raw walnuts
8 medjool dates, pitted (if using another type of date roughly just under one cup)
Blend coconut, vanilla, cinnamon, & sea salt together in food processor for 30 to 60 seconds. Add in walnuts, blend. Then add in 8 pitted medjool dates. Press mixture into a wax/parchment lined pan. Set in fridge to firm up.
Raspberry Layer:
1.5 cups frozen raspberries, thawed, drained
4 medjool dates, pitted
1 1/2 TBS chia seeds
Blend ONLY raspberries and dates until dates are well combined. Pour into a bowl, and STIR in chia seeds. Let set for 15 minutes, stirring on occasion. It will thicken into a nice raspberry "jam". If not thick enough after 15 minutes, stir in a little more chia until you have the right consistency. Spread over base layer.
Topping:
1/3 cup dried coconut
1/3 cup raw walnuts
pinch cinnamon
pinch sea salt
Pulse topping ingredients together until a nice crumble is formed. Sprinkle over raspberry layer. Garnish with cacao nibs, set in fridge to firm up.
Garnish:
2 TBS raw cacao nibs
You have just created the perfect blissful breakfast bar. Makes 8 medium sized bars! Or 6 large ones.
Optional Icing, see recipes here: http://wp.me/p1ZQq5-Lx
[ingredients]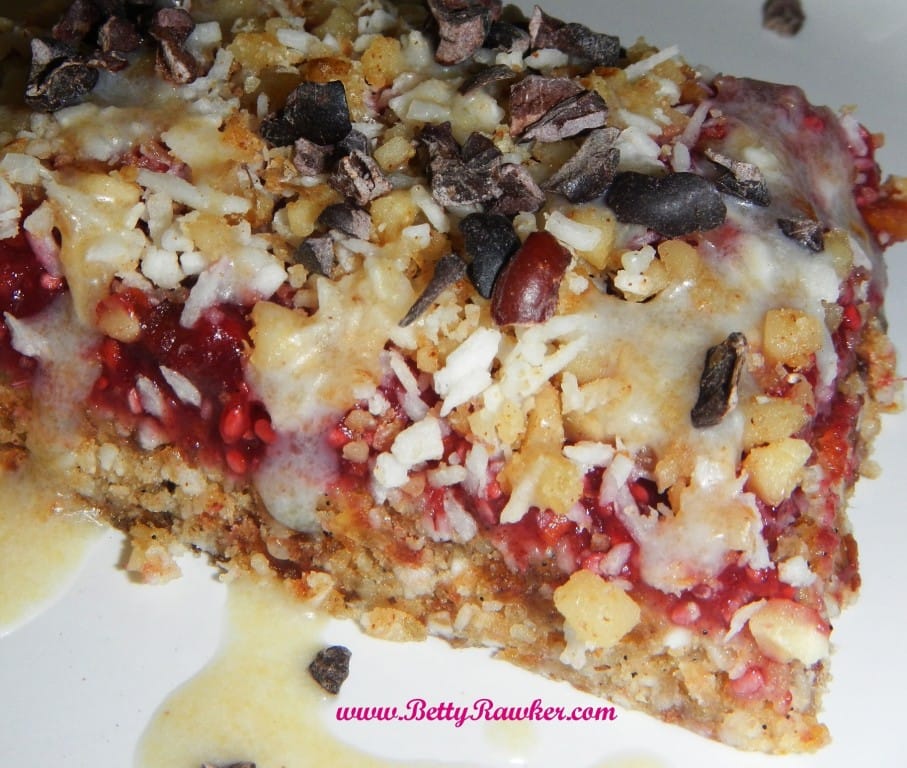 Ingredients
1 cup dried coconut
1/2 tsp vanilla
1/2 tsp cinnamon
pinch sea salt
1 cup raw walnuts
8 medjool dates, pitted (just under 1 cup)
1.5 cups raspberries, frozen, thawed, drained
4 medjool dates, pitted
1 1/2 TBS chia seeds
2 TBS raw cacao nibs