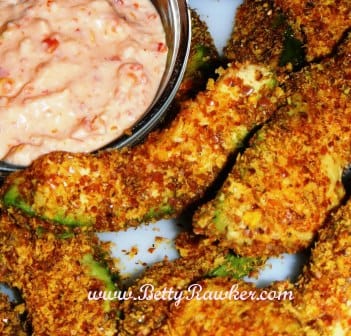 Ingredients
1 large perfectly ripe avocado
3 Tablespoons ground flax seed
2 Tablespoons nutritional yeast flakes
2 - 3 pinches sea salt
1 - 2 pinches cayenne
Fresh ground black pepper
Directions
Mix together all the dry ingredients in a bowl.
Quarter avocado, then carefully slice into thin strips. Roll the avocado strips in the "fry batter" and lay carefully in the dehydrator. Dehydrate for 30 minutes ~ or so ~ at 115*F. And if you don't have a dehydrator, they are still really awesome really raw, just coat & eat!
Note: I tried baking them too at 375*F, just to see how they turned out, but they were SO MUCH BETTER lightly heated in the dehydrator or just simply raw.