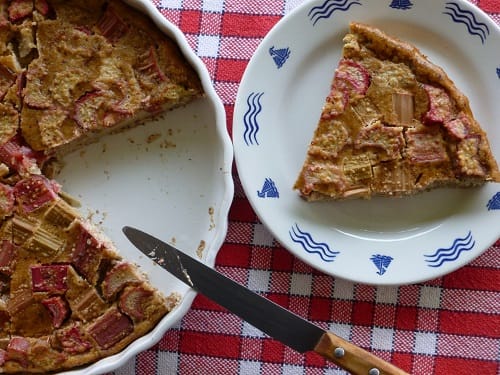 Ingredients
4 rhubarb stalks
4 eggs
1 cup of almond flour
1 cup of almond milk
1/2 cup +2 Tbsp of coconut sugar
1 Tbsp of vanilla extract
Butter or coconut oil for greasing
Pinch of salt
Directions
Preheat oven to 375°F (190°C) and grease a round ceramic pie dish with butter or coconut oil.
Wash the rhubarb stalks, chop off and discard the ends and cut them into 1 inch (2.5 cm) pieces without peeling off the skin. Place them in the pie dish.
In a bowl, combine the almond flour, coconut sugar and salt. Whisk in the eggs, almond milk and vanilla extract. The batter should be thin and very liquid.
Pour the batter over the rhubarb pieces in the pie dish and place in the oven on the middle rack. Bake for 15 minutes. After the first fifteen minutes, sprinkle two tablespoons of coconut sugar over the clafoutis so as to gently caramelize the top. Bake for another 10 minutes. Let cool around 20 minutes before serving.