This is Rice Paper Rolls, I am still learning when it comes to writing up our meals, I just make them. I must get better at taking notes and writing instructions. I shall do my best today and I will practise. I welcome any feedback. For more click here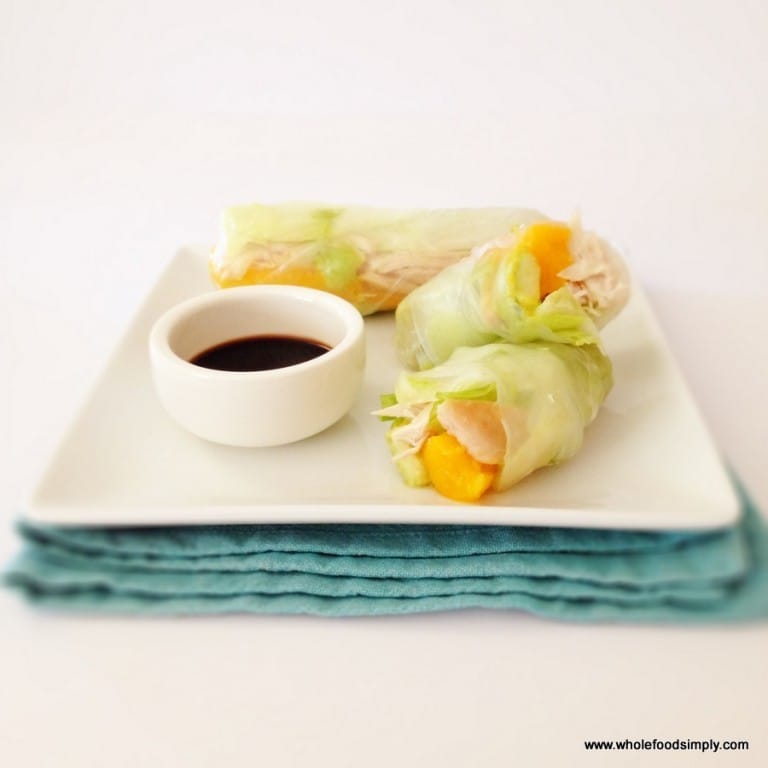 Ingredients
1 mango, slice the flesh into strips
400 grams of cooked chicken, sliced into strips or roasted cashews for a vegetarian option
1 ripe avocados, flesh sliced into strips
1/2 lettuce, shredded
10 sheets of rice paper (substitute lettuce wraps for strict paleo)
Dipping Sauce (optional)
2 tablespoon tamari
1 tablespoon of sweet chilli sauce
Directions
Once all of your ingredients are prepared half fill your sink or a large bowl with warm water.
Place a lightly dampened tea towel next to your water.
Place one sheet of rice paper into the water at a time.
Let it soften, this takes around 25 seconds.
Remove the sheet and lie it flat on the damp towel.
Imagine you have divided the sheet, horizontally, into quarters. In the second quarter assemble the ingredients in a horizontal line, leaving room at the sides to enclose the filling.
Per roll I do two strips of chicken, two strips of avocado, two strips of mango, and top with the shredded lettuce.
Gently roll the first quarter of the paper up to cover the filling, enclose the two sides and continue rolling.
Once completed set aside and start again. These are actually very quick and easy once you get the hang of it.
To make the dipping sauce combine the two ingredients. Enjoy.