Roasted Banana (Gelatin) Pudding
1. Place unpeeled bananas on a parchment covered baking sheet. Roast for 20 minutes at 350 degrees (you can make pudding without roasting bananas if desired).
2. Remove from oven and allow to cool for at least 5 minutes. Slice off the peels and scoop the bananas into a food processor.
3. Add 1/4 cup of the milk, salt, and cinnamon if using. Puree mixture until smooth.
4. Put remaining 3/4 cup of milk in a saucepan over low heat.
5. Put the gelatin in a small dish and add just enough water to dissolve the gelatin (tbsp or two). Add the gelatin to the coconut milk and stir for a few minutes.
6. Add banana puree and stir to incorporate. Remove from heat and add vanilla extract.
7. Pour the mixture into dishes (I use two large ramekins) and place in the refrigerator for about an hour, until firm.
Optional: When firm, mix the pudding with a hand mixer or immersion blender for a creamier texture if desired.
Optional topping: Heat a tbsp or so of coconut oil in a frying pan over med heat. Add slices of banana. Fry for several minutes per side until browned. Add to top of pudding and sprinkle with cinnamon.
[ingredients]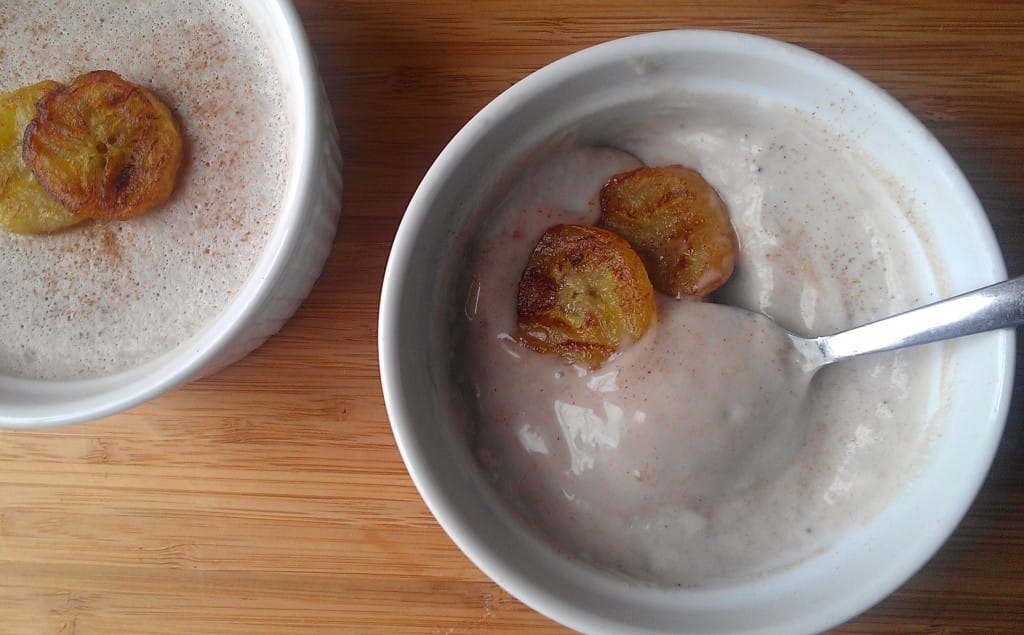 Ingredients
2 bananas
1 cup full-fat coconut milk
2 tspp unflavored gelatin
pinch salt
1 tsp cinnamon (optional)
1 tbsp honey, or to taste (optional)
1 tsp vanilla extract (optional)