Sausage and Apple Stuffing
Makes 120 Bread Cubes
1/2 c. Almond Flour
1/4 c. Golden Flaxseed Meal
1 tsp, Aluminum- Gluten- Free Baking Powder
2 Pinches Celtic Sea Salt
2 Large Organic Eggs
1. In small bowl scramble eggs with a whisk.
2. In a separate bowl mix dry ingredients.
3. Add eggs to dry ingredients and mix.
4. Pour into a mini-loaf pan greased with coconut oil
5. Bake at 350° F for 22 minutes.
6. Remove from oven and cool on wire rack.
7. Slice bread into 9 slices and then each slice into 12 cubes.
8. Return to oven for 15 minutes to dry and crisp.
Directions for Sausage & Apple Stuffing
1. Brown pork sausage with celery and onion. Drain.
2. In mixing bowl, add bread cubes, sausage, apple, poultry seasoning and salt.
3. Whisk together eggs and broth then pour over stuffing. Gently mix.
4. Bake stuffing in covered casserole dish at 350° F for 30 minutes. Uncover and bake for an additional 10 minutes.
[ingredients]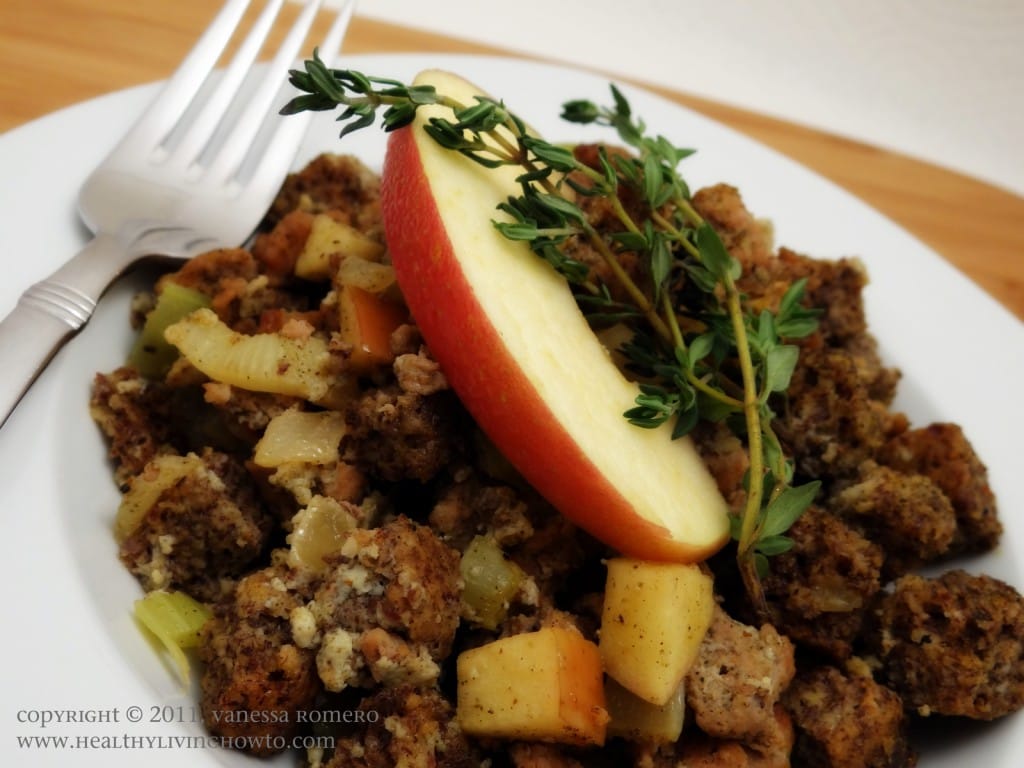 Ingredients
1 lb. Fresh Ground Pork Sausage (Mild)
4 Stalks Organic Celery, Chopped
1/4 c. Organic Onion, Chopped
1 Medium Organic Fuji Apple, Chopped
1 Recipe of Bread Cubes: 1/2 c. Almond Flour, 1/4 c. Golden Flaxseed Meal, 1 tsp, Aluminum- Gluten- Free Baking Powder, 2 Pinches Celtic Sea Salt, 2 Large Organic Eggs
2 tsp. Poultry Seasoning
1 tsp. Celtic Sea Salt
2 Large Organic Eggs
1/2 c. Organic Chicken Bone Broth