Sausage & Egg Breakfast Bake
I created this simple family-style breakfast dish with the holidays in mind. It's perfect when you have guests over, as it can easily be prepped the night before then baked the next morning. It's a great Paleo alternative to some of the traditional breakfast casseroles out there, but sans bread, cheese, & unnecessary processed ingredients. But don't worry~ no flavor is lost here!
Check out my blog if you want to see how it's done in the slow cooker overnight, or how it can be baked into muffins! ().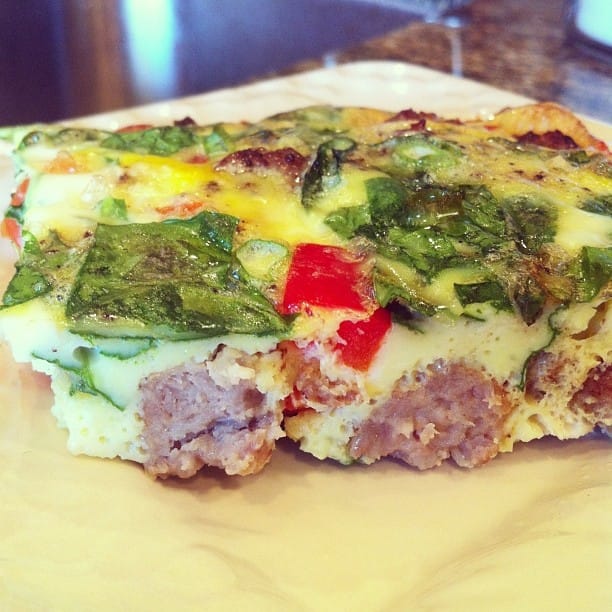 Ingredients
1 lb pork breakfast sausage (12 small links)
1 1/2 cups baby spinach, chopped
1 red bell pepper, diced
12 eggs
1/2 tsp sea salt
1/2 tsp black pepper
2 green onions, thinly sliced
coconut oil spray
Directions
Preheat the oven to 375ºF.
In a large skillet, cook the pork breakfast sausage over medium-high heat until browned. Drain, & set aside.
Coat a large baking dish (mine was 9" x 12") with coconut oil spray, and distribute the sausage, spinach, and bell pepper evenly throughout the dish.
Whisk together the eggs, milk, salt, & pepper in a bowl, and pour the egg mixture over the meat and veggies. Sprinkle the green onions over top.
Bake for about 30 minutes, or until eggs are set & a toothpick comes out clean.