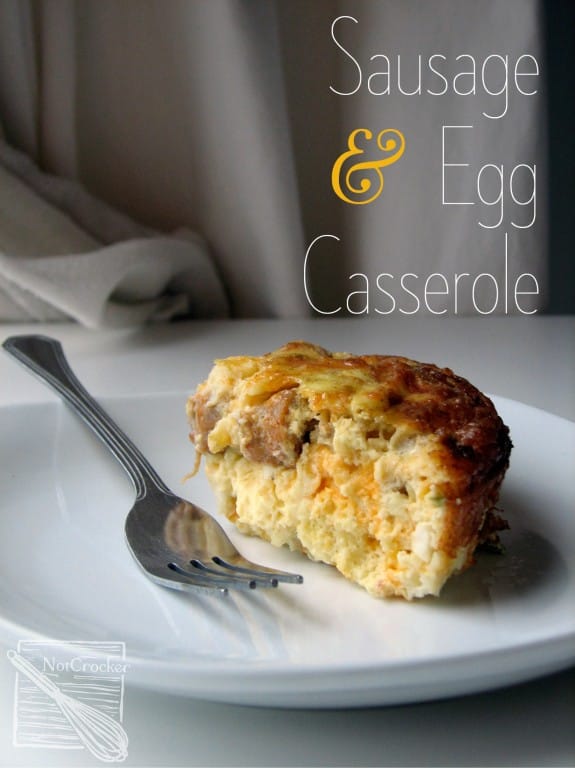 Ingredients
8 breakfast sausage, cut into bite-sized pieces
1 tbsp butter or coconut oil
1-2 jalapeños, diced
1 clove garlic, minced
1 cup mushrooms, roughly chopped
Salt and pepper to taste
10 eggs
1 1/2 cup dry-curd cottage cheese (can use wet cottage cheese, just reduce the salt and butter added)
1 1/2 cup cheddar cheese, shredded
3 tbsp coconut flour *optional
1/4 cup butter, melted
Directions
In a large pan over medium-high heat, cook the sausage bites until browned. Drain, and set aside.
Melt the tablespoon of butter in pan, add the mushrooms, garlic, and jalapeños. Cook just until the mushrooms are tender. Season with salt and pepper. Stir in with the sausages. Allow this mixture to cool.
In a large bowl, whisk together the eggs, cottage cheese, and cheddar cheese.
Stir the sausage mixture into the egg and cheese mixture. Cover with plastic, and refrigerate in the bowl overnight.
Heat oven to 350° F. Lightly grease a casserole dish. I baked this in a smaller, deeper dish that gave me thick slices, but it can be made in a 9- x 13-inch dish for thinner slices. If you opt for the large dish, the baking time will be less.
In a small bowl, stir together the coconut flour and butter. Quickly whisk the flour mixture into the egg mixture, removing any lumps.
Pour the mixture into the prepared baking dish, making sure that the sausages are distributed evenly. If you want, you can top the casserole with another 1/2 cup of shredded cheddar.
Bake for 40 to 50 minutes, or until lightly brown and no longer liquid in the centre.
Let stand 10 minutes before serving.