For the scotch eggs:
Preheat oven to 350F & heat coconut oil in frying pan (enough oil to for frying).
1. Boil eggs (hardboiled eggs can take ~ 10-12 mins boiling) – shell and set aside.
2. Mix minced beef with seasonings of choice (I used salt, pepper, garlic powder, red pepper flakes and finely ground basil).
3. Take portions of this seasoned minced beef and flatten. Mold the meat onto the boiled egg so as to make a coating to to surround each – roll them in your hands to maintain the round & even meat coating on the eggs.
**Optional (but will keep meat together better): coat each scotch egg with beaten egg & roll in almond flour / meal until evenly coated.
4. Place scotch eggs in heated coconut oil in frying pan – fry until golden brown.
6. Remove from pan and place scotch eggs on baking tray and place in oven for ~ 10 – 12 mins.
Served cut in half over a bed of arugula and sliced strawberry salad – mm mm good.
[ingredients]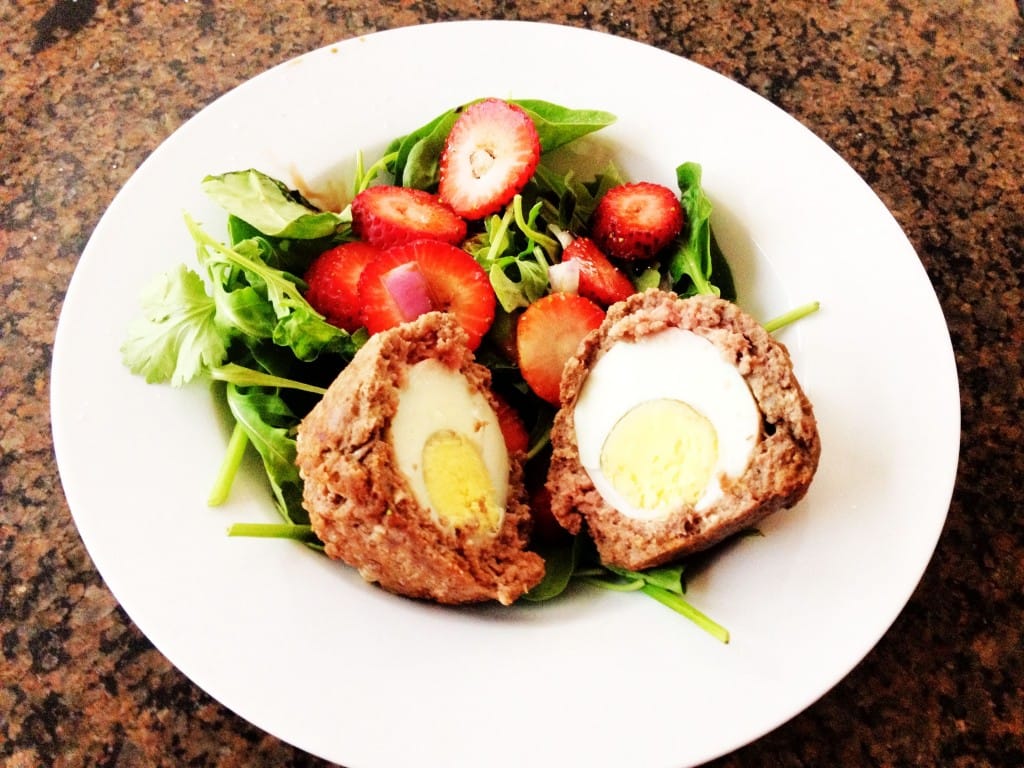 Ingredients
1lb Lean Ground Beef
4 Eggs
Basil, other green seasonings
Salt and pepper for taste
Arugula
Strawberries
Coconut oil for frying
Almond meal & egg for coating (optional)