The CaveDan clan doesn't eat enough seafood each week, mainly because we cook a substantial amount for our meals, to allow left overs for the following day's lunch, and the cost of fish for this amount of food is quite hefty. While we do take daily supplements, we've been looking at alternative seafood sources to get our omega-3 content.
We found a recipe on www.healthyfish.co.nz that uses squid, so investigated the nutrition and cost of this source.
Squid is jam-packed with health-boosting omega-3 essential fatty acids, a 100g serving of squid can contain up to 0.6g of omega-3 fatty acids out of the recommended 7 to 11g you should be consuming each week. This is one of the better sources of omega-3 fats, although salmon and sardines contain more.
Apart from upping your omega-3 levels, squid offers other important components too: it's a great source of protein, is high in phosphorus, zinc, copper and selenium, and is rich in niacin and vitamin B-12.
Squid are unusual, as they grow to adulthood and die within the space of a year. Catches are monitored closely each year, and catch limits are seldom reached. They are considered a sustainable seafood. (source www.deepwater.co.nz)
When cooking squid, remember that it's best done over high heat for a very short time. Otherwise it can turn rubbery and chewy.
This recipe has been adapted from the original recipe posted on www.healthyfish.co.nz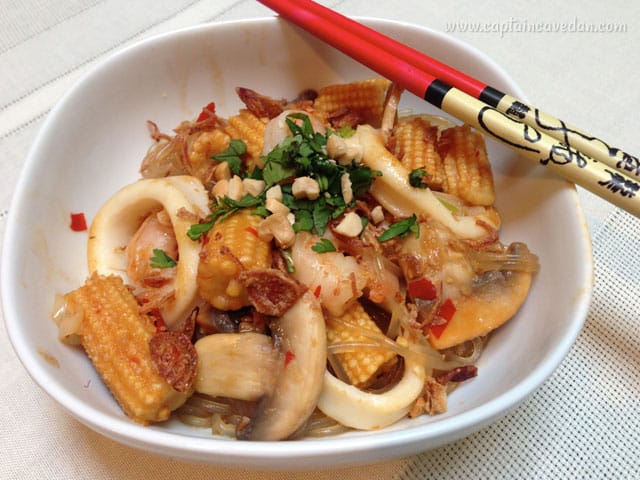 Ingredients
50 ml sesame oil
400 g raw prawn meat (we used frozen - thawed on the bench for an hour, and patted dry)
1-2 squid tubes, sliced
2 spring onions, sliced
1 red chilli, chopped
1 tbsp fresh ginger, chopped
200g button mushrooms, sliced
1 x 400g tin sliced baby corn or bamboo shoots, cut in strips
Sweet potato noodles
SAUCE
juice of 1 lime
20 ml coconut aminos
40 ml sweet chilli sauce
1 tbsp fish sauce
2 tbsp fresh coriander, chopped
sea salt and freshly ground black pepper
GARNISH
1 tbsp whole coriander leaves
50 g fried onions, for garnish (home made or try store brought fried shallots)
50 g roasted cashews
Directions
Bring a pot of water to the boil. Drop in the sweet potato noodles and cook through.
Meanwhile, add the half of the sesame oil to a hot work and sauté the garlic, spring onion, chilli and ginger. Add the mushrooms and corn or bamboo shoots. Reduce heat to ensure the garlic does not burn.
When mushrooms are cooked, remove mixture from the wok and put into a large serving bowl.
Drain noodles, and add to the sauté mushroom mixture
Mix all sauce ingredients together. Add to the noodle, mushroom mixture and stir to combine and coat the noodles
Add the other half of the sesame oil to the wok, make sure it is very hot. Sauté the prawns and squid for 2 minutes. Prawns should be pink and curled up.
Add prawns and squid to the noodle mix and stir.
Garnish with fried onions, coriander and roasted cashews.