1. To make the rice, steam a whole head of cauliflower for about 10minutes and mash with a potato masher to form \'rice\'.
2. Chop up onion, garlic, bacon, mushrooms and capsicum into small pieces.
3. In a large soup pot, heat olive oil up on medium to high heat. Once hot, add garlic and onion.
4. Stir garlic and onion occasionaly until translucent and add bacon. Continue stirring for another 5 minutes.
5. Add the rest of the ingredients except for seafood and cauliflower rice. Stir and let simmer for about 10 minutes on medium heat.
6. Add cauliflower rice and seafood and stir through until the seafood cooks. This will only take about 5 minutes maximum.
7. Take off the heat and serve!
[ingredients]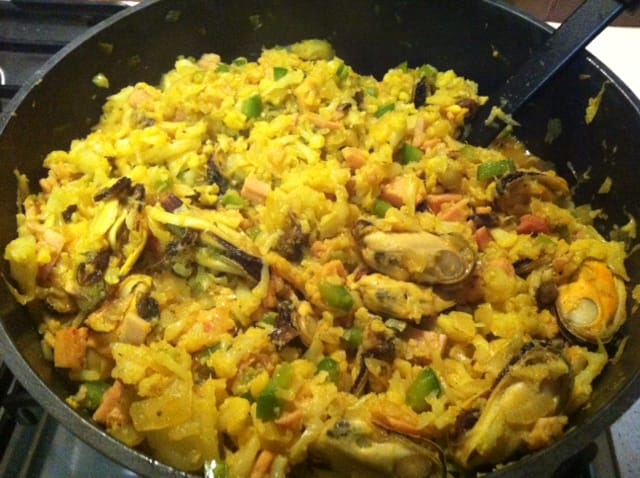 Ingredients
1 cauliflower head
500g mixed seafood
2 tbsp olive oil
1 large onion
4 cloves garlic
250g bacon
1 green capsicum
1 cup mushrooms, Salt and pepper
1 cup chicken stock, 1 tsp smoked paprika
2 tsp tumeric, 1 tsp chili powder