Seared Lamb Chops with Rosemary Salt
1. Preheat the oven to 400 degrees.
2. Heat a large, oven-safe cast iron or stainless steel skillet over medium-high heat and melt the bacon fat in the pan.
3. Season the lamb chops with the rosemary salt blend generously on both sides. Add ground black pepper to taste.
4. Sear each side of the chops for 2 minutes, then place the entire pan into the hot oven for 2 minutes.
Optional: Serve with kalamata olives and macadamia nut pesto.
For the Rosemary Salt Blend:
Ingredients:
1/2 c ground, dried rosemary (preferably made from drying fresh rosemary)
1/4 c coarse sea salt
Preparation:
Combine all spices in a food processor. Store in a jar or resealable bag for use in recipes.
[ingredients]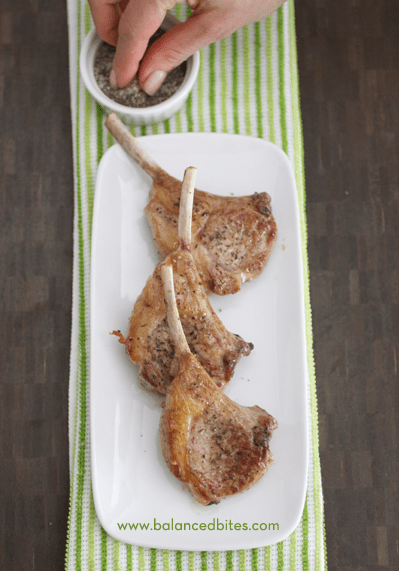 Ingredients
1 Tbsp. bacon fat or coconut oil
8 lamb rib chops
2 tsp. Rosemary Salt Blend (see below)
ground black pepper to taste