Sesame Wasabi Seared Tuna salad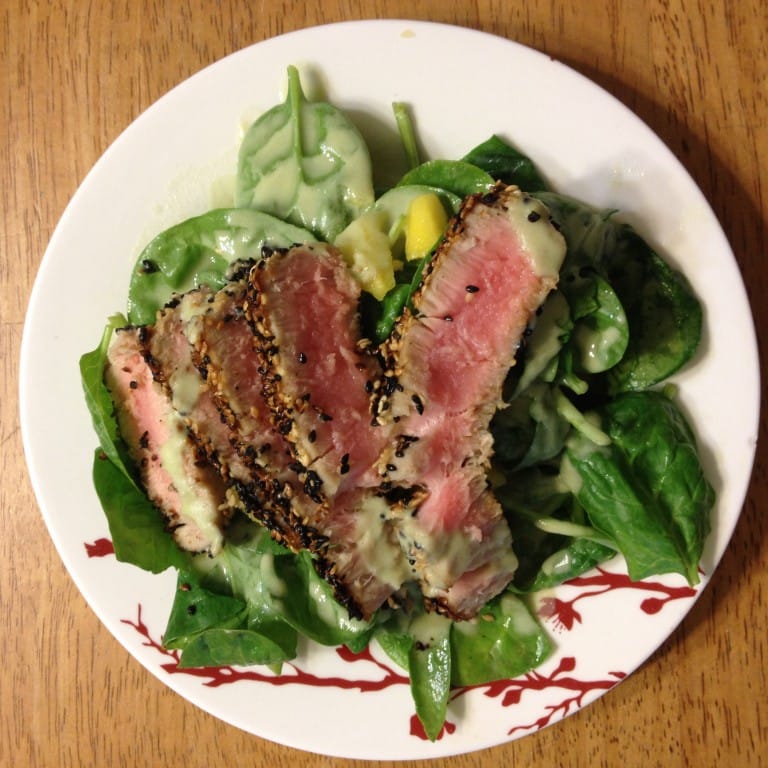 Ingredients
1 lb sashimi grade ahi tuna steak
2 T white vinegar
1/2 t wasabi powder
2 T black sesame seeds
2 T white white sesame seeds
Pickled Ginger (optional)
1 mango
For dressing: 2T white vinegar 1t wasabi powder & 1T honey
Spinach or other salad leaves of choice
Directions
Heat skillet on med-high heat
Prepare the vinegar and wasabi mixture and coat the tuna steak. Combine black and white sesame seeds on a shallow dish and place tuna stake on dish. Make sure to coat all sides and edges.
Add olive oil to skillet if not non-stick. When skillet is hot enough add tuna steak searing each side for 2-3 min each. (A little longer if you don't like the tuna rare)
While tuna is cooking, whisk together the vinegar, wasabi powder, and honey to make the dressing. Cube the mango and combine it with the spinach and dressing.
When the tuna is done cooking, cut in to 1/4 inch slices, and place on top of the prepared salad. Enjoy!