Break the cauliflower into the florets and put them into the steaming dish/pot and steam them until the cauliflower is really soft. Meanwhile, dice the onion, garlic, mushrooms, carrots and celery.
Heat the pan with some coconut oil (or some other oil you like), put the diced veggies and stir fry them until they soften (about 10 minutes). Check if cauliflower is already soft and if it is, fish it out and transfer it to a blender or food processor, add olive oil and blend it well. In the end it should look like mashed potatoes.
Transfer the fried veggies from the pan to the bowl. Put the ground meat (or you can buy an unground piece of meat and grinding it yourself – you\'ll be sure there is no toxic fat ground there) into a pan with some oil (I really really recommend coconut oil because of its low smoke point, i. e. it does not oxidize much, and the saturated fatty acids of coconut oil are recognized by your body as carbs and used for energy) and fry it until it browns (about 15 minutes).
While finishing add some salt, pepper and spices. Mix the meat with veggies and transfer the mix into a rectangular glass dish and even it.
Prepare a cup of broth (either natural or a cube of organic one) and pour it onto the meat. On the top of it put mashed cauliflower and smooth the surface. Preheat the oven to 180 С, put the dish into the oven and bake it for 30 minutes.
[ingredients]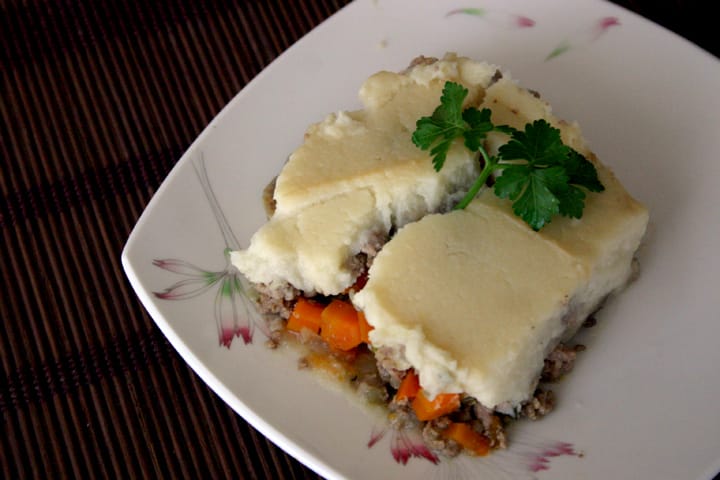 Ingredients
1.7 lb (770 g) ground beef
1-2 heads of cauliflower (depending on the size)
0.7 lb (300 g) of mushrooms
3 medium sized carrots
3 stalks (ribs) of celery
1 onion
3 cloves of garlic
1 cup of broth
2 tbsp of olive oil
pepper, salt, oregano, thyme