Shrimp over Jalapeno Slaw with Coconut-Lime Dressing
I love this recipe for the hot summer months ahead because you spend very little time hovered over a hot stove!  The slaw and dressing are fresh and easy to prep.  The shrimp cook up quickly as well.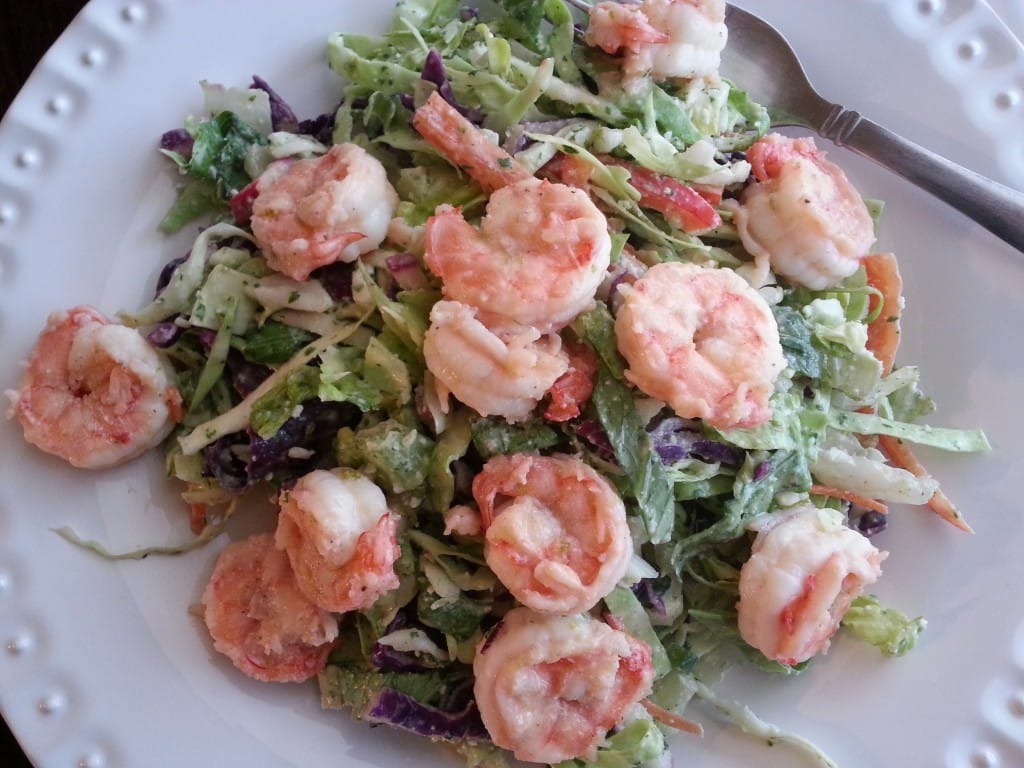 Ingredients
FOR SLAW:
1 cup romaine lettuce, shredded
1 cup green cabbage, shredded
1 cup purple cabbage, shredded
1 carrot, shredded
4 radishes, julienned
2 green onions, sliced
1 jalapeno pepper, seeded & minced
1 red bell pepper, thinly sliced
FOR DRESSING:
1/2 cup full-fat coconut milk
1/4 cup macadamia nuts, roughly chopped
1 lime, zested & juiced
1 cup loosly packed cilantro, chopped
1/4 tsp. salt
1/4 tsp. black pepper
FOR SHRIMP:
1 lb. wild-caught shrimp, peeled & deveined
1/4 tsp. salt
1/4 tsp. black pepper
1 tsp. EV Olive Oil
1 lime, zested & juiced
Directions
Combine all slaw ingredients in a large bowl.
Now make your dressing — put the coconut milk, macadamia nuts, cilantro, lime zest/juice, salt, and pepper in a food processor. Process for about 30 seconds, or until the nuts are well broken up and the dressing is smooth. Set aside.
In a small bowl, toss the shrimp with olive oil, salt, and pepper.
Heat a skillet over medium heat. Add shrimp, and cook for about 5 minutes. Stir them frequently so that they cook evenly. When they're done they will be pink and no longer opaque.
Remove the skillet from the heat, and add the other lime's juice and zest. Toss to combine.
Pour the dressing over the slaw and mix it until it's well coated.
Serve the slaw on a plate, and top with shrimp.