Skagenröra ("Skagen Mixture")
A delicious classic Swedish seafood mixture!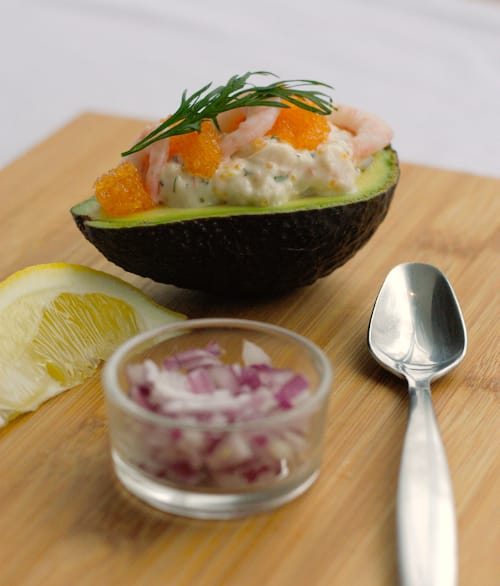 Ingredients
14oz (400 g) unpeeled shrimps (5 oz / 140 g peeled)
0.5 cup (1.25 dl) mayonnaise
1 tablespoon red onion (finely chopped)
1 tablespoon dill leaves (finely chopped)
1 tablespoon bleak roe (or other red caviar)
Finely grated zest from 0.5 lemon
Juice from 1 lemon wedge
1 pinch black pepper (fresh, coarsely ground)
1 pinch sea salt (finely ground)
Directions
Peel the shrimps and put a few aside for garnish. Chop the rest and put them in a mixing bowl.
Add the other ingredients and stir gently with a spoon until all ingredients are evenly mixed.
Serve on top of e.g. mini (paleo) pancakes, avocado halves, egg halves or seed crackers. Garnish with a few peeled shrimps, a teaspoon red caviar (preferably bleak roe), some finely chopped red onion, a lemon wedge and a dill leaf.