** I know white potatoes aren't part of everyone\'s paleo, but I feel that they are a great addition to this stew. You can always sub sweet potatoes 🙂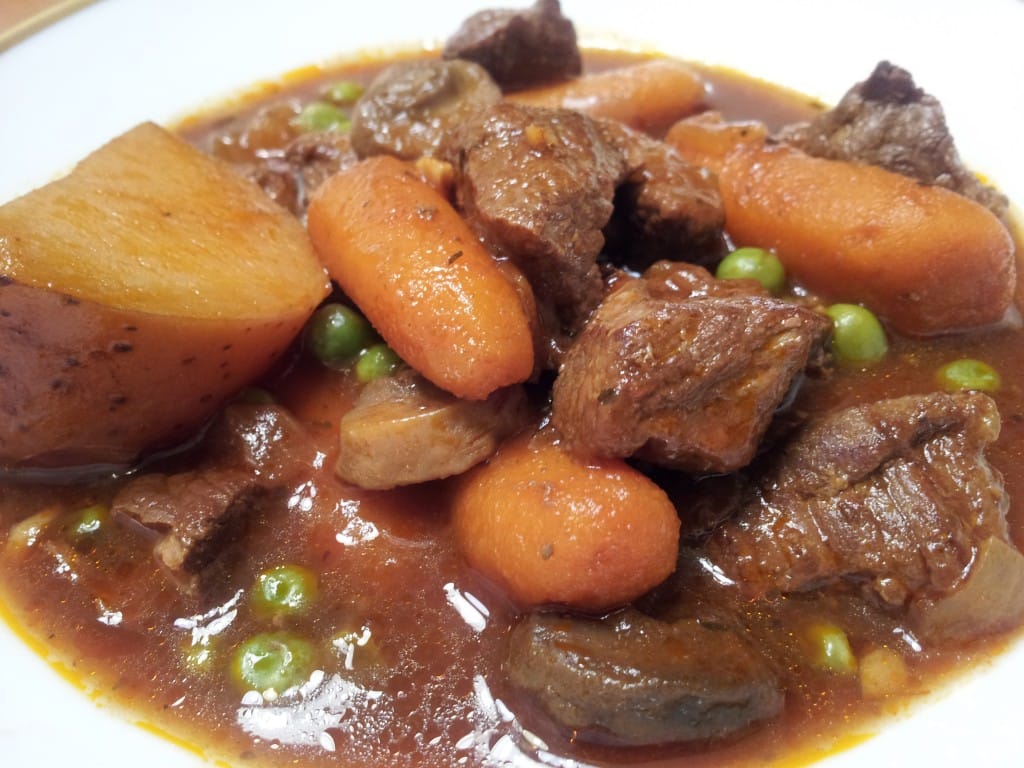 Ingredients
2 lb. grass-fed beef stew meat
1 tbsp. bacon fat
1 large yellow onion, chopped
6 oz. can tomato paste
3/4 c. red wine
4 red potatoes, quartered, or 2 sweet potatoes
2 handfuls of baby carrots
1 handful of fresh mushrooms
1/2 c. frozen green peas
2.5 c. beef broth, 3 garlic cloves - minced, 1/2 tbsp. salt, 1 tsp. thyme, 1 tsp. marjoram, 1 bay leaf
Directions
Heat bacon fat over medium-high heat. Add your stew meat to the hot pan and brown on all sides. You might have to do this in batches and add more fat if necessary. Wait until your pan is really hot — if you don't wait long enough you won't get a good sear and you'll create a lot of liquid.
Once meat is done transfer it to your slow cooker. Add chopped onions to hot pan and turn heat down to medium. Continue to cook onions for 5 mintues or so.
Add tomato paste and wine to pan and scrape up browned bits. Let simmer for a few minutes. Add over meat in slow cooker.
Toss in all other ingredients – broth, veggies, garlic and spices with the exception of your green peas.
Give it a good stir and cook on low for 8 hours.
About 30 minutes before stew is done — add your green peas and continue to cook until they're heated through.