A pretty awesome game roast!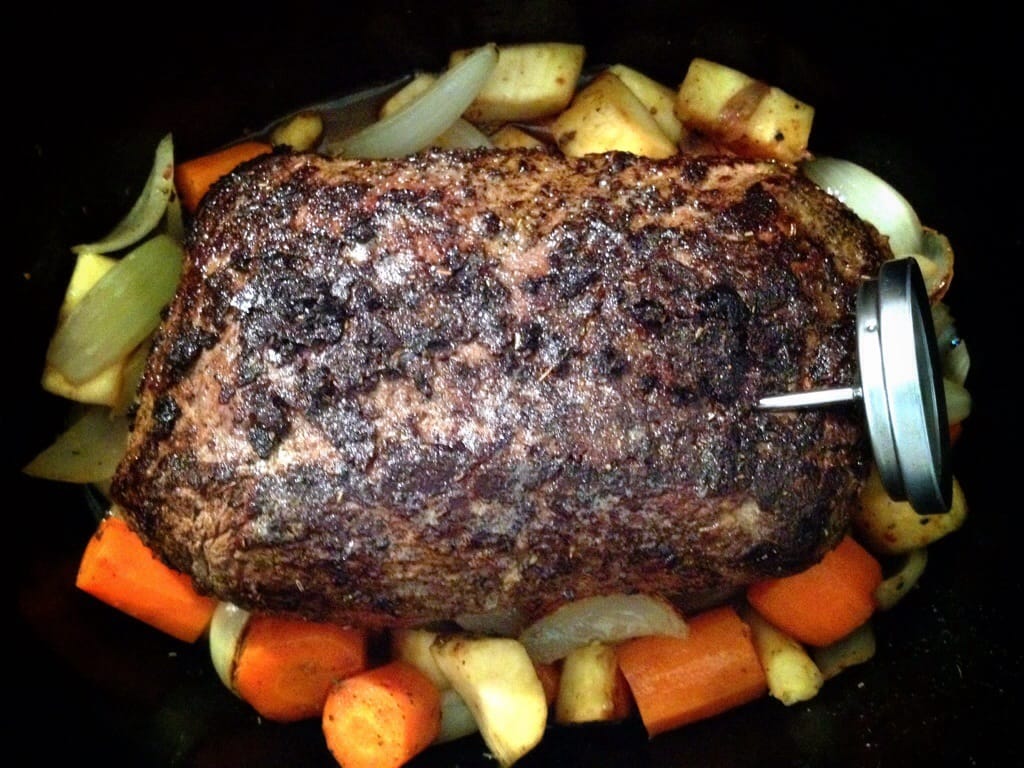 Ingredients
1 Moose Roast, 2.2-3.3 lb (1-1.5 kg).
10 Juniper Berries.
5 Allspice Berries.
15 Pink Peppercorns.
1/2 tbsp dried Thyme.
1/2 tbsp dried Rosemary.
1 tsp Salt.
1-2 tbsp Dijon Mustard.
6 Carrots, pealed and cut in rough chunks.
4 Parsnips, pealed and cut in rough chunks.
2 Onions, pealed and cut in rough chunks.
1 Cup (2.5 dl) Beef or Game stock.
4 Bay Leaves.
Ghee or Clarified butter, (for searing).
Directions
In a hot frying pan, quickly give the vegetables a bit of color then transfer them to your slow-cooker.
Pat the roast dry with paper towels, then coat it with the mustard.
Crush and mix the spices (except for the bay leaves) in a mortar, then cover the roast in it.
Quickly sear the roast in the frying pan, then place it on top of the vegetables in the slow-cooker.
Add the bay leaves and stock, then run it on low until the core temperature is about 150F (65C).
Let it rest a bit before slicing it thinly.