Slow-Cooker Chicken Tikka Masala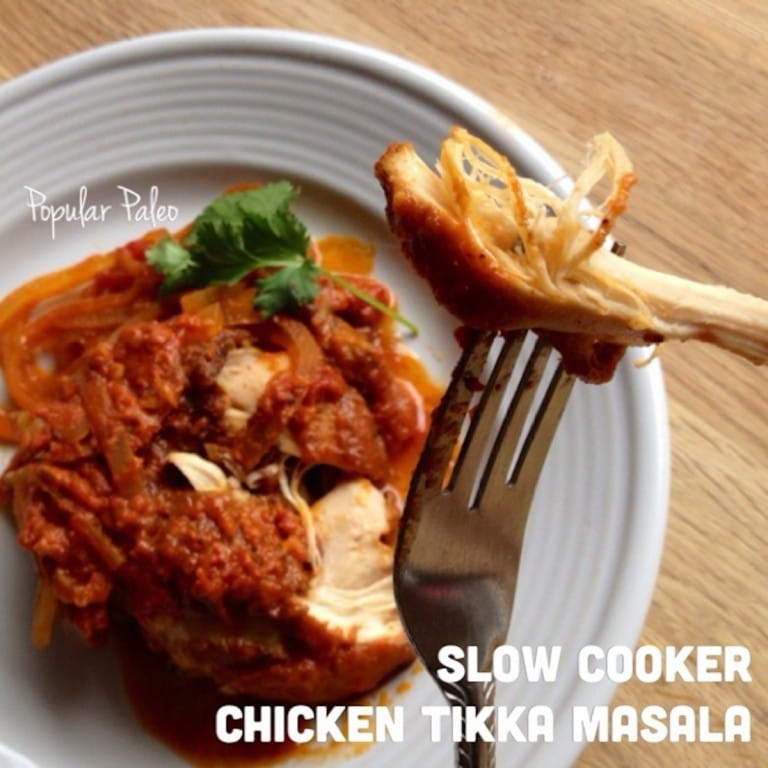 Ingredients
2 pounds bone-in, skin-on organic chicken thighs
1 cup coconut milk
2 cups organic crushed tomatoes
1 TBSP minced ginger root
3 garlic cloves, minced
1/2 white or yellow onion, thinly sliced
1 TBSP + 2 tsp garam masala
1 tsp ground coriander, 1 tsp ground cumin, 1 TBSP coconut palm sugar, 1/4 tsp red chili flakes, 1/2 tsp kosher salt
2 TBSP butter or ghee and 2-3 TBSP coconut oil
Fresh cilantro for garnish
Directions
Dairy-free and made in the slow cooker!
Prep and clean the chicken thighs (remove excess fat and skin), place in a bowl and coat in 1 TBSP of garam masala.
Heat a pan to medium-high and melt a couple tablespoons of coconut oil. Sear the chicken thighs, starting with the skin-side down. We just need a quick sear on both sides, then place in the slow cooker. Thinly slice half an onion and lay on top of the chicken thighs.
In a sauce pan, melt the 2 tablespoons of butter or ghee with the minced ginger root and garlic on medium heat. When the garlic and ginger sizzles, add the coconut milk and crushed tomatoes. The spices go next — 2 tsp garam masala, the coriander, cumin, salt, red chili flakes and coconut palm sugar. Simmer for just a few minutes, until the spices are well mixed and the sauce starts to do that popping, splattering thing that gets sauce all over your stove… floor… walls… I hate that. Pour the sauce over the onions and chicken thighs already waiting in the slow cooker.
I give the pot a little shake to get the sauce down to the chicken, but this isn't something to worry about. Everything comes together after a couple hours on low heat. Cover, set the slow cooker to low and the timer for 3 hours. This should be enough time to finish the thighs, soften the onions and develop that rich, spicy sauce. My Crock Pot is a bit ambitious though, so if yours is on the slow side, you could probably bump it up to 4 hours without drying out the meat.
Serve over Cilantro-Lime Cauliflower Rice (or just regular cauliflower rice), garnished with cilantro.