Slow Cooker Lemon 'Baked' Chicken
1. Pat chicken dry with a paper towel; rub with oil. Place lemon halves inside chicken; tie legs together with string and tuck in wing tips.
2. Place chicken in a greased 5-6 quart slow cooker. Mix the garlic, dry parsley, salt and pepper, then rub outside the chicken.
3. Cover and cook on HIGH for one hour; reduce heat to LOW and continue cooking for 4½ hours or until a thermometer inserted into thigh registers 180 degrees.
[ingredients]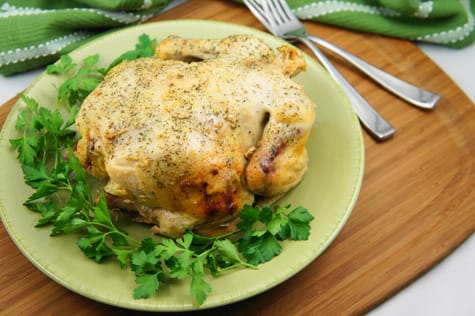 Ingredients
3½- to 4-pound roasting chicken
2 tablespoons olive oil
1 lemon
2 garlic cloves, minced
1 teaspoon dried parsley
1 teaspoon salt
½ teaspoon pepper