A flavor packed pork stew made in a slow cooker!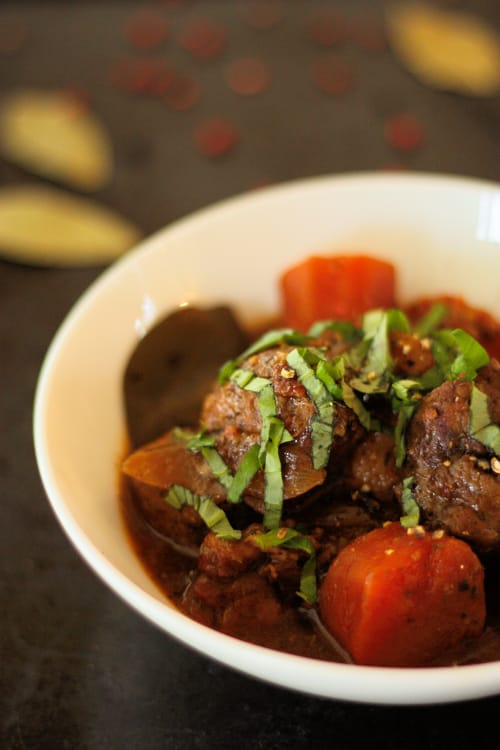 Ingredients
2.2lb (1 kg) pork (such as ham or tenderloin), (cubed)
5oz (140 g) bacon (slices, cut into squares)
4 carrots (peeled and cut into chunks)
5 parsnips (peeled and cut into chunks)
2 onions (peeled and cut into chunks)
4 cloves garlic (minced)
0.5 tablespoon dried rosemary
1 tablespoon dried thyme
0.5 tablespoon pink peppercorns
1 teaspoon salt
1 tablespoon Dijon mustard
3 tablespoons tomato paste
1 cup (2.5 dl) red wine
3 bay leaves
1-2 tablespoon arrowroot powder
salt and ground white peper (to taste)
Directions
Put the rosemary, thyme, peppercorns, and salt in a mortar and grind until the peppercorns are crushed.
Put the bacon in a large frying pan, and fry for a few minutes.
Add the chunks of carrot, parsnip, onion and the minced garlic to the frying pan. Dust with a bit of salt and ground white pepper, and let fry for some 5 minutes while tossing occasionally.
Transfer the bacon and vegetables to your slow cooker, and add the Dijon mustard, tomato paste and bay leaves.
Put the cubed pork in the hot frying pan along with the spices from the mortar, and quickly sear the meat before placing it on top of the vegetables in the slow cooker.
Pour over the wine, and set it to low for 6-7 hours.
When it's done, dissolve the arrowroot powder in a little bit of cold water and gently stir it into the stew to thicken it.