Smoky Bacon Ginger Banana Bread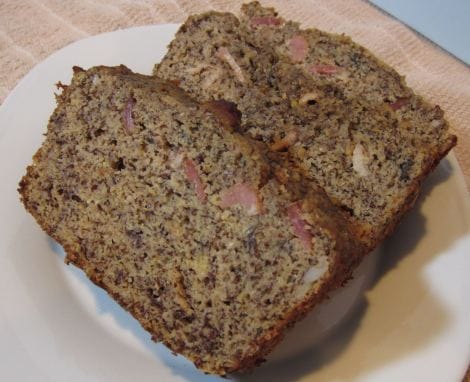 Ingredients
1/2 c Coconut Flour
1 t Salt
1 t Baking Soda
1/2 c Ground Flax
6 Eggs
3 Very Ripe Bananas
3 Thick Slices Bacon (Organic and Pastured!!)
3 T Fresh Ginger, grated
Directions
Fry the bacon until crisp. Drain on paper towels and chop into small bits. Set aside.
Drain off all but a little bit of the bacon grease. Toss the grated ginger into the frying pan and saute for about 1 minutes, or until fragrant and lightly browned.
Whisk together the dry ingredients and set aside. Mash the bananas and beat in the eggs. By quarter cup-fulls, add the dry mixture and mix well until completely combined. Fold in the bacon bits and ginger.
Pour batter into a greased loaf pan.** Bake at 350 degrees for 50-60 minutes, or until a knife inserted in the center comes out clean.
**To make it easier to get the loaf out of the pan once it's done baking, line the bottom with a strip of parchment paper. This seriously changed my life forever.