Homemade taco seasoning makes these beef tacos perfectly spicy. Use any Paleo tortillas or even lettuce wraps for a quick weeknight meal. Use your favorite taco toppings including salsa, guacamole and cheese.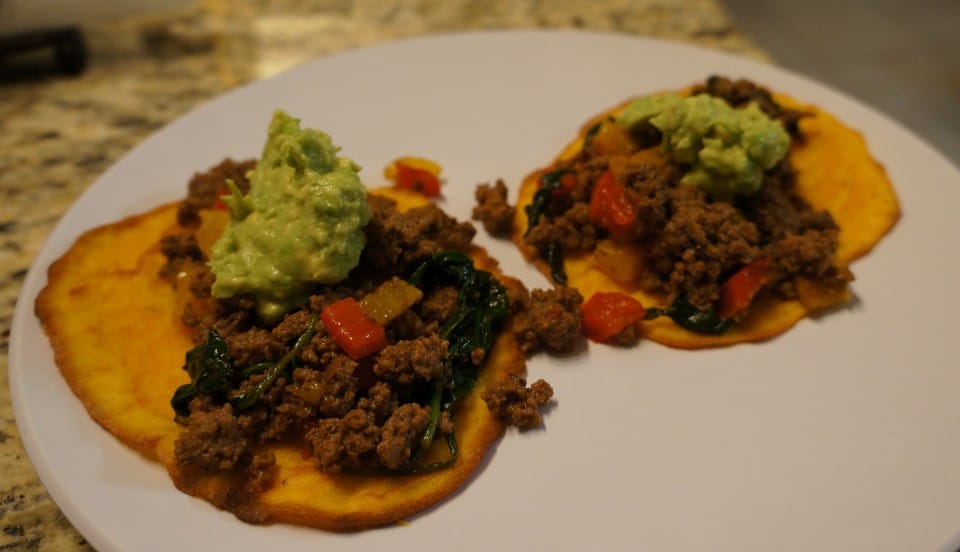 Ingredients
1lb ground beef
1 green or red bell pepper (chopped)
1 garlic clove (minced)
1 cup spinach (chopped)
3 tablespoons taco seasoning (recipe below)
2/3 cups water
Primal Magic Dough tortillas or other Paleo/gluten-free tortillas
1 tablespoon chili powder
1/4 teaspoon oregano
1/4 teaspoon garlic powder
1/4 teaspoon onion powder
1/4 teaspoon red pepper flakes
1/2 teaspoon paprika
1 1/2 teaspoon cumin
1 teaspoon salt and pepper (each)
Directions
Heat a medium skillet over medium-high heat. Add ground beef and cook, breaking up the meat until it's almost cooked through.
Add the chopped bell pepper and garlic clove and cook until bell pepper has softened. Add in spinach and cook a few minutes until it is wilted.
Add in 3 tablespoons of the spice mixture and stir will. Next add in the water and bring to boil. Lower the heat to a simmer, cover and cook for 10 minutes.
Serve with Paleo or gluten-free tortillas, avocado, salsa and cheese.