Spicy Ginger Lime Cauliflower Rice
{Ingredients}
1 large cauliflower cut into florets
1 medium sized yellow onion, finely chopped
1/2 cup diced jalapenos; separate seeds from flesh and save
3-4 cloves of garlic, chopped
1.5 Tbs minced ginger
Juice of 2 limes (2-3 Tbs)
Extra Virgin Coconut Oil
Salt
Optional: cilantro, garlic scapes, green onion
{Directions}
*It is helpful to have everything chopped, diced, etc. ahead of time because the cooking portion is fast paced
1. Cut cauliflower into florets. Process in food processor until florets are the size of small rice granules. Depending on your food processor, you may have to do this is in a few different batches!
2. Make sure all ingredients are easily accessible. Heat large pan over medium heat; add 1-2 Tbs coconut oil – enough to coat pan well.
3. Once pan is heated and coconut oil is melted, add chopped onion. Stir continuously for 3 minutes. After 3-4 minutes, add diced jalapeno (don't add the seeds yet!) and combine with onions. Continue to stir for another 2 minutes.
4. Once onions are nearly done (translucent) add in chopped garlic and combine with onion and jalapeno mixture. Continue to stir constantly for another minutes or until garlic becomes fragrant.
5. Next, add 1.5 Tbs minced ginger and the juice of two limes. Combine well with onion, jalapeno and garlic mixture. Let sit for 1-2 minutes. Add a pinch of salt and combine mixture again. Then, turn burner to "low" setting. Add cauliflower rice to pan and combine well onion, jalapeno, garlic, ginger, lime mixture.
6. Once mixture is well combined, cover pan and let cook for 5-8 minutes. Make sure to keep an eye on the cauli-rice. Take a taste test at the 5 minutes mark and see how it is coming along. From there, judge whether or not it needs to be cooked longer or if it is ready!
7. Add salt to taste; start with 1/2 tsp and add as needed . If you would like a spicier taste, add your jalapeno seeds . Start by adding 1/2 tsp seeds and go from there!
8. Serve in cute small bowl, top with cilantro, garlic scapes, green onion, enjoy!
[ingredients]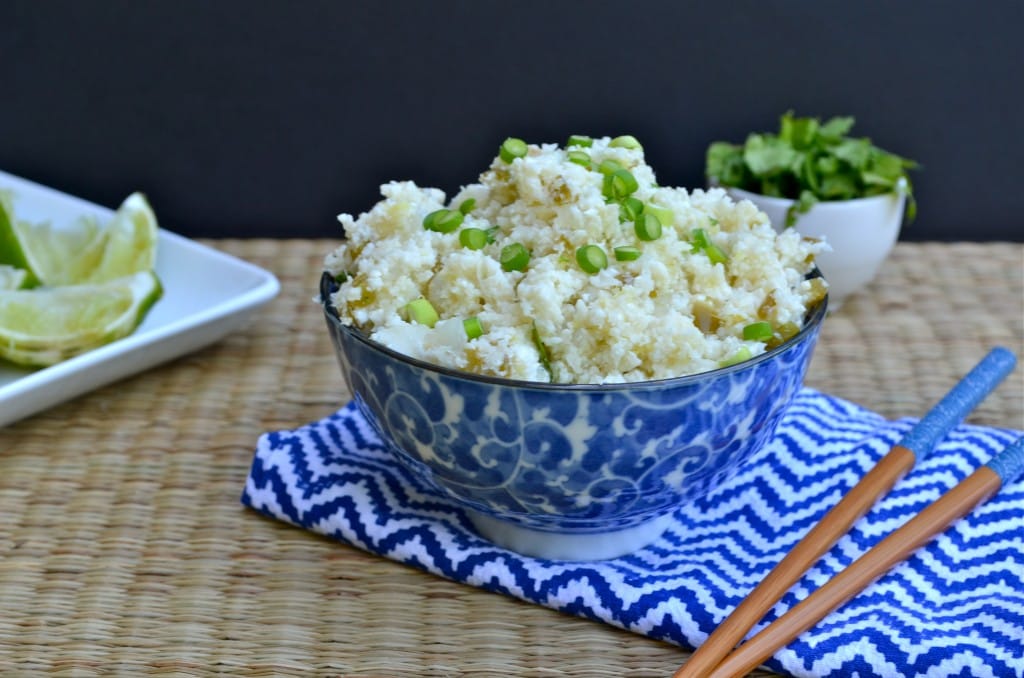 Ingredients
1 large cauliflower, cut into florets
1/2 cup diced jalapeno
1 medium sized yellow onion
3 to 4 cloves garlic, chopped
juice of 2 limes
1.5 tbsp minced ginger
cilantro
extra virgin coconut oil
salt