Features fabulous thai flavors that are sure to set your taste buds on a wild ride. Enjoy this spicy thai favorite with lobster or any other meat you enjoy. Experiment with different broths and curry pastes to hit the sweet spot for spicyness and flavor!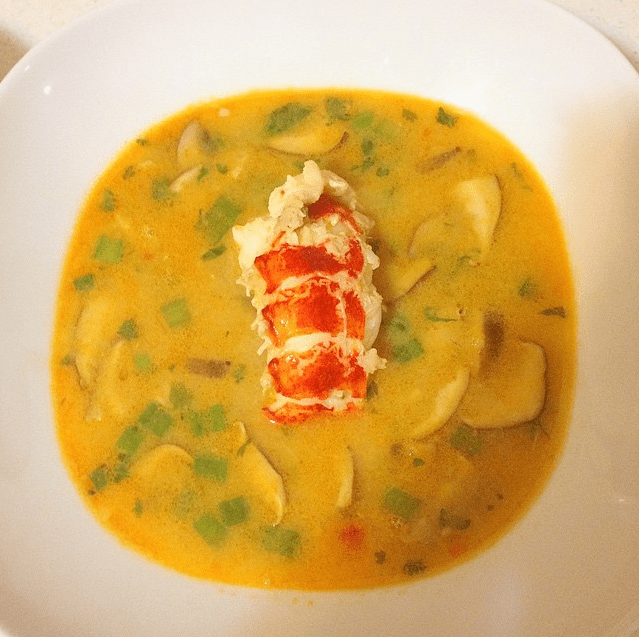 Ingredients
3 TBSP butter
6 Scallions, sliced, tops and bottoms separated
5 ounces mushrooms, sliced
4 cups of broth (your choice)
3 garlic cloves, minced
1 TSP lime zest
1 TSP curry paste (your choice)
2 TBSP lemongrass, minced
2 TSP sriracha or other hot sauce (optional spicyness)
1/4 TSP ginger, chopped
1 cup coconut milk
1 bunch of cilantro, keep some for garnish if you like
Directions
In a pot or pan, heat butter, bottom scallions, mushrooms, and garlic until scallions are translucent.
Add your broth of choice, the lobster tails, and bring it to a boil. Reduce to simmer and cook until the tail shells turn red.
Scoop the lobster out and put it aside for now.
Cut the tails down the middle and scoop out any undercooked meat. Place the big lobster shell portions back into the broth. Bring the pot back to a boil. Simmer again and cook covered for 30 minutes.
Remove the shells, mix in lime zest, curry paste, lemongrass, sriracha (or other spicy sauce), and the ginger. Heat for 10 more minutes.
Add the coconut milk, tops of scallions, cilantro, and mix while cooking for 5 minutes. Add the lobster meat, and cook for another 5 minutes.
Serve garnished with additional cilantro.