Stacked Heirloom Tomato Sliders
With a splash of balsamic vinegar for sweetness and plenty of salty goodness sprinkled atop the veggie meaty mess of baby bellas and mighty homegrown tomatoes, you'll feel satisfied for a few minutes, for sure!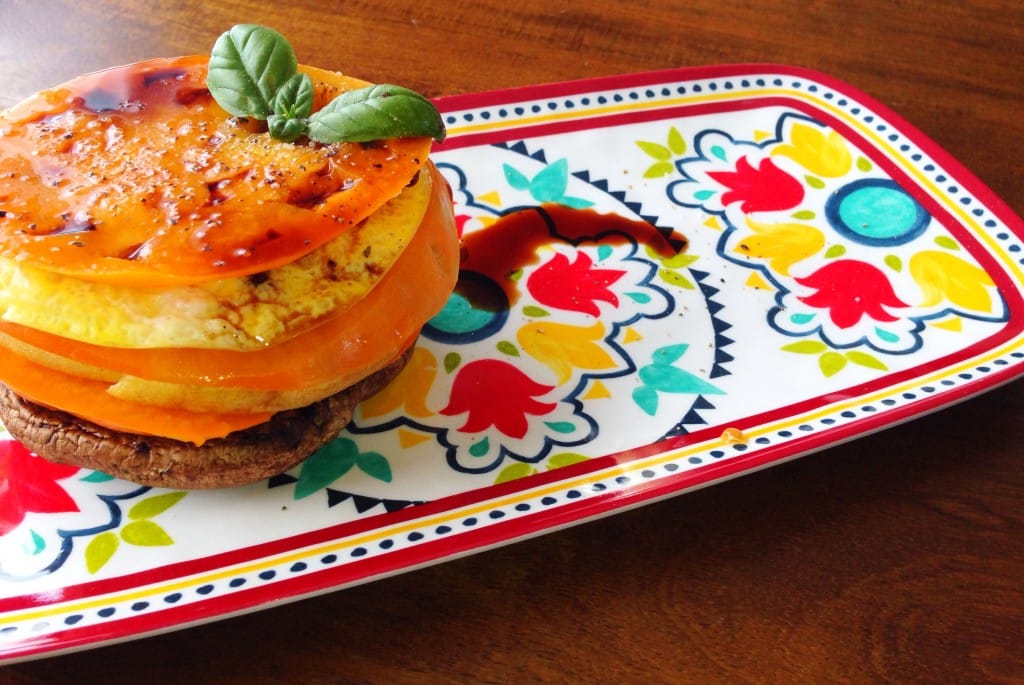 Ingredients
4 baby portabella mushrooms
2 tsp. extra virgin olive oil
2 large heirloom tomatoes, sliced
8 pastured eggs
1 Tbs. pastured butter
1 tsp. Fleur de Sel sea salt
freshly ground pepper
2 Tbs. balsamic vinegar
Directions
Preheat oven to 400 degrees.  Line a large baking dish with parchment paper.  Scoop out the inside scales of the mushrooms and place on parchment, scale side down, drizzle with oil, and roast for 10 minutes.  Flip.  Roast an additional 10 minutes.  Remove from oven.
Meanwhile, in a large skillet, melt butter over medium to low heat.  Using egg fry rings, pour the scramblings (salted and peppered) of each individual egg into the egg fry rings to create scrambled round slider layers.  (This may take several rounds, depending on how many egg rings you have).  
Once the shrooms have roasted and the eggs have cooked, assemble the slider stacks with a baby bella on the bottom, a tomato slice (with salt, of course), an egg layer, another tomato, and then another egg.  Finish off with a final tomato, since they are utterly irresistible), if you so desire.  Sprinkle generously with Flowers of the Salt and freshly ground pepper.  Drizzle with the lovely sweetness of balsamic.  Garnish with fresh basil.