Stuffed eggplant w/chicken and peas
Cut eggplants into halves. Steam the halves until you can scoop out the center. You can bake the eggplants in the oven, packed in the foil, until soft and then scoop out soft part of the center.
While eggplants is steaming/ baking, boil the peas with chopped bacon. Drain them, add the butter and mash into piuree.
Chop the onion, bell pepper, a half of chili pepper, cubes of cooked beets, saute everything in 1 tsp of fat until soft.
Cut chicken breast into small cubes. Add it into the onions and bell peppers. Saute everything until the chicken is edible. Season with thyme, pepper, and salt.
When the eggplants are soft, scoop out the inside. Put scooped parts into the chicken and cook until all liquid completely evaporate (or discard the excess of eggplants).
Place the eggplant halves in the baking dish with a sheet of foil.
Put pea puree on the eggplant halves, then put chicken and vegetable mixture.
Sprinkle with grated cheese and put under the grill (or just in the oven) for 10 minutes until cheese begins to melt.
Serve immediately. Leftovers are good to take into lucnbox.
P.S. I served it with basil butter (recipe will be later). You can sprinkle with fresh favourite herbs, or serve with a knob of good butter. Nom nom as I like to say!
[ingredients]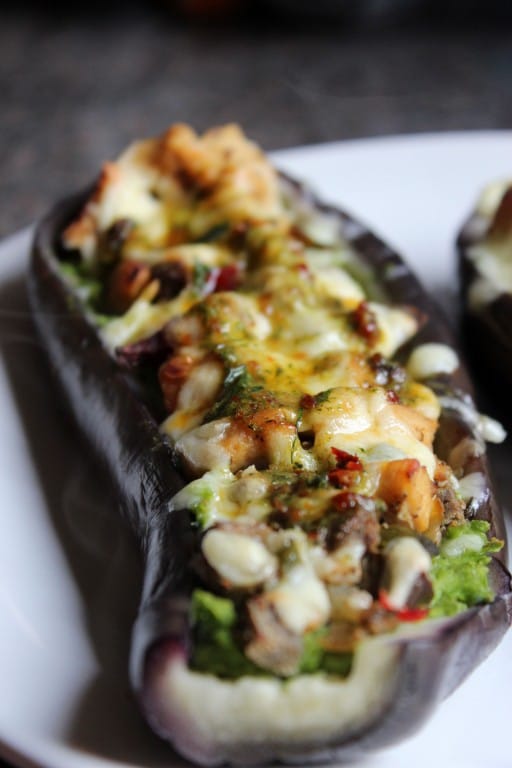 Ingredients
2 eggplants/aubergines 1 1/2 chicken breast 1/2 chili pepper 1 red bell pepper 1 onion 1 cooked beetroot (optional) 2 cups frozen peas piece of bacon (optional) salt, pepper, dried thyme to taste 3 tbs. butter 1 tsp fat for frying grated cheese (optional)