Sugar-Free Dried Cranberries
Sweetening Options (choose 1)
*1/2 tsp. NuNaturals Pure White Stevia Extract Powder
*1/4 tsp. NuNaturals Pure White Stevia Extract Powder + 4 Tbsp. NOW Xylitol, Non-GMO
*1/4 tsp. NuNaturals Pure White Stevia Extract Powder + 6 Tbsp. NOW Erythritol Granular
Directions
1. In a sauce pan add 1/2 c. water + sugar-free sweetening option.
2. To the sweetened water add 12 oz. of cranberries.
3. Stir cranberries around to coat and turn heat to medium-high.
4. Cook cranberries for about 10 minutes until they have all popped. Use the back of a spoon to pop the cranberries that are stubborn.
5. Remove from heat and let cool for 10 minutes.
6. Line a sheet pan with doubled up paper towels and then lay a sheet of parchment over top.
7. Spread cranberries out and dry in oven at 170º F for 7-8 hours.
8. After 4 hours take cranberries out of the oven and using a spatula transfer them to a new sheet of parchment paper, spreading them out some.
9. Return to oven for another 3-4 hours.
10. The cranberries are done when they are no longer wet, you choose how chewy you want them. The longer you go the more chewy they are.
11. Let cool, separate and store in a sealed container.
If you are wondering about the health and safety of sugar alcohols, namely xylitol & erythritol, I will defer your questions to Primal Expert and author of the Primal Blueprint, Mark Sisson. His article, Sugar Alcohols: Everything You Need to Know, is a fantastic resource. I keep a bag of both erythritol and xylitol in my cupboard (you won\'t find any white sugar in there). Local sourcing may be difficult so I always buy online at Netrition.
*Note: while there is no added sugar in this recipe, cranberries do contain some amount of natural sugars.
[ingredients]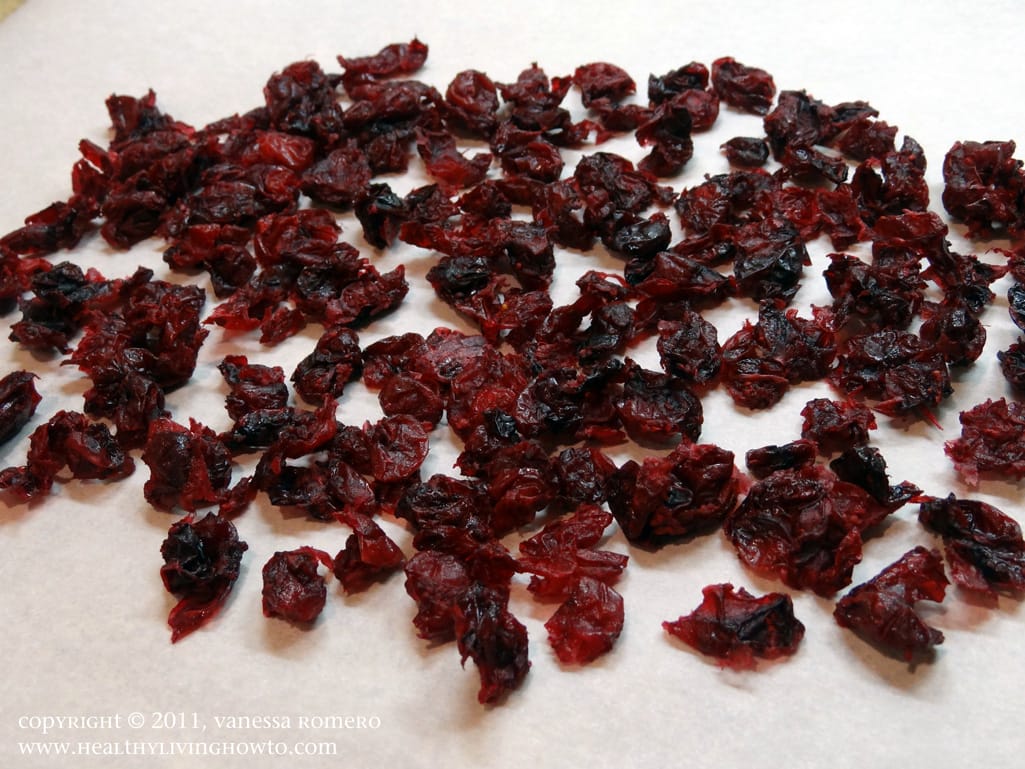 Ingredients
12 oz. Cranberries
1/2 c. Water
Sugar-Free Sweetener (see options)