Sugar-free Nutty Winter Chutney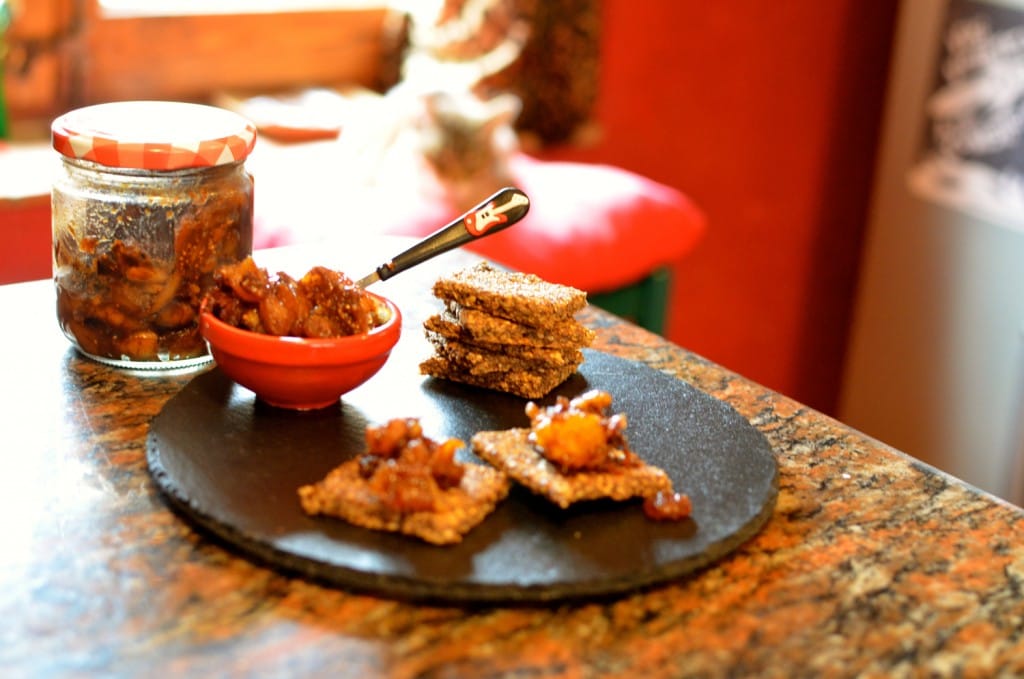 Ingredients
250g red onion, peeled and chopped
2 cloves of garlic
1 tablespoon olive oil
10g fresh ginger
200g dried apricots
200g dried figs
150g raisins
175ml apple cider vinegar
50ml water
1 teaspoon nutmeg
2 teaspoon cinnamon
1/2 teaspoon all spice
4 tablespoons honey
50g slivered almonds
Directions
In a large heavy saucepan, heat the tablespoon of oil up while you chop up the red onion. Cook the onions gently until they've softened (about 10 minutes or so). Throw in the minced garlic and ginger and keep cooking until well-combined. While this is cooking, start chopping up your dried fruit into small chunks.
When the onions start to brown, start adding the fruit: apricots, raisins and figs. Keep stirring until everything is well mixed.
Then pour over the honey and vinegar and toss in all your spices (DON'T add the almonds yet!).
Cook gently for about 30 minutes while stirring. At some point it'll get super sticky, this is when you want to add the water. I used 50ml, but you may need more, or less. You want to keep the chutney moist. After about 30 minutes, it should be less liquidy and more solid. Now throw in the almond slivers, stir to combine, then leave to cool.
When it's cooled, put it in pretty jars to give as gifts or one big jar to use yourself. Store in the fridge. Eat with gluten-free crackers.