A little bit of sweetness and a hint of smoke. This Paleo friendly pulled pork is fantastic!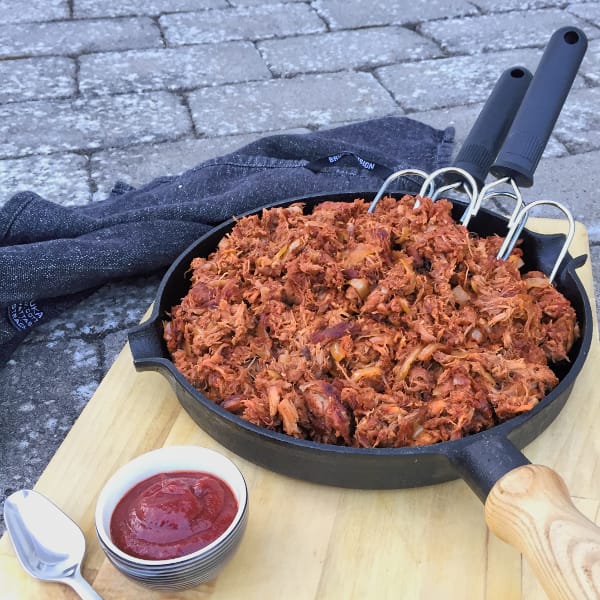 Ingredients
2.5 - 3.5lb (1 - 1.5 kg) pork shoulder (boneless)
2 onions
1 cup (2.5 dl) water
5 cloves garlic (minced)
2.5 teaspoons sea salt (fine ground)
2 teaspoons cacao powder
1 teaspoon ground cumin
1 teaspoon chipotle powder
0.5 teaspoon ground cinnamon
1 batch sweet paleo bbq sauce (http://strictlypaleoish.com/sweet-paleo-bbq-sauce/)
butter, ghee or coconut oil (for frying)
Directions
Rub the minced garlic all over the pork shoulder.
Put all spices in a bowl and blend well using a fork, then coat the pork shoulder with the spice mix.
Peel the onions and slice thinly.
Cover the bottom of a slow-cooker with the sliced onion, add the water, then place the pork shoulder on top of the onion.
Cook on "low" for 10 hours.
Carefully remove the pork shoulder from the slow-cooker, then pour the liquid and onions through a fine mesh strainer.
Put the pork shoulder and onions back into the slow-cooker.
Shred the meat using two forks until there are no large pieces left, and at the same time blend the onions with the meat.
Heat up a frying pan, add some butter, ghee, or coconut oil and then add the pulled pork.
Fry for a few minutes over high heat while occasionally tossing/stirring. (Best result in my opinion is when there are a few well fried, almost crunchy, pieaces in there.)
Add the BBQ sauce and gently toss/stir until the sauce is completely and evenly mixed with the meat.
Serve with a fresh salad.