Sweet Potato and Fennel Hash
Most people, including me, associated the taste of fennel with licorice. I am not a fan of licorice. However, when fennel is roasted, it loses that strong flavor and the sweetness comes out. It is especially good with sweet potatoes or winter squash.
1. Preheat oven to 400F.
2. Remove the outer, tough layer from the fennel bulbs. Thinly slice off the outer surface of the root end of the fennel; try to leave root end as intact as possible. Cut each bulb in half lengthwise (top to bottom). Place cut sides down, then slice the bulbs lengthwise into 1/4 inch strips.
3. Place the fennel, sweet potato, and onion into a shallow roasting pan. Season with kosher salt and freshly ground black pepper. Gently toss with just enough oil to coat the vegetables and the pan. Arrange the bacon pieces over the vegetables.
4. Roast at 400F, mixing up occasionally, until vegetables are browned in places and bacon is cooked to desired crispness (approximately 40 minutes).
5. Serve it up hot or warm. It is good with pork, chicken, and steak!
[ingredients]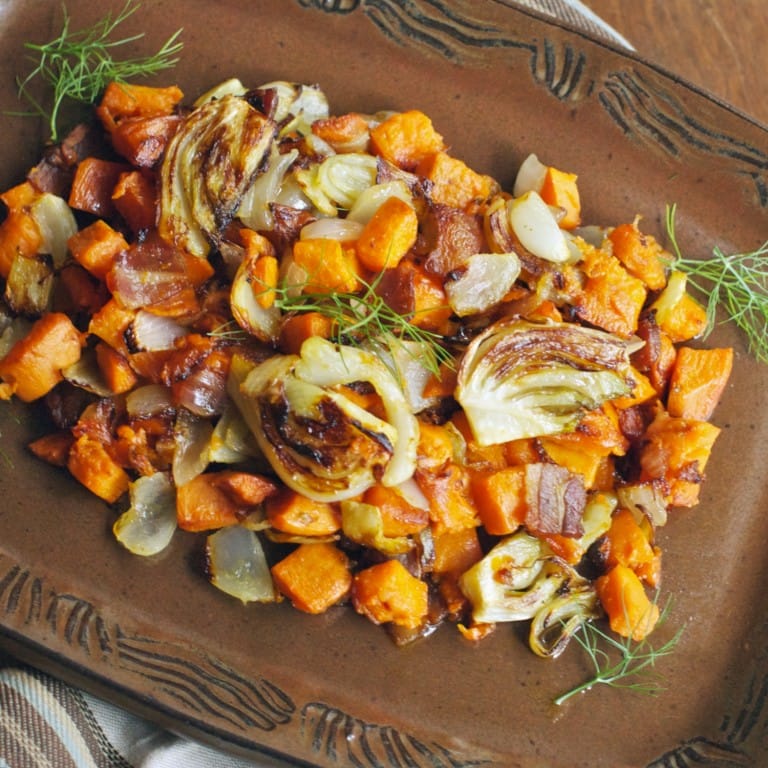 Ingredients
2 bulbs fennel (stalks removed)
1 large sweet potato, peeled, cut into large dice
1 sweet onion, coarsely chopped
3 or 4 slices bacon, cut into 1-inch pieces
extra virgin olive oil, or oil of choice
Kosher salt and freshly ground black pepper