Sweet Potato Eggs Benedict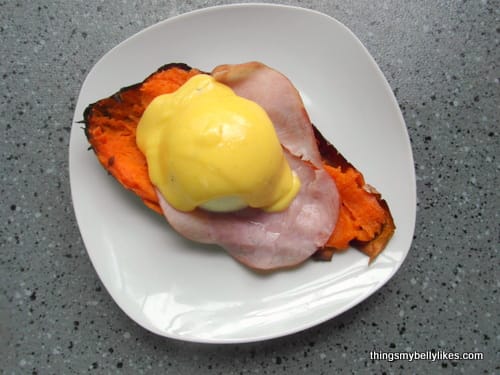 Ingredients
1 large sweet potato
1 tbsp butter or coconut oil, melted
1 tsp sea salt
2 eggs
2 slices ham or bacon, cooked
4 egg yolks
1/2 cup butter
3 tsps lemon juice
Directions
Brush the sweet potato with the butter/oil and dust thoroughly with the sea salt. Bake at 420 for 45 minutes, or until tender.
Remove the potato from the oven and scoop out most of the flesh (be careful to leave some as that'll help the skins retain their shape). Discard the flesh (or save for another meal!) and place the empty skins under a broiler/grill at a medium heat so they can crisp up while you work on the eggs and sauce.
Poach your eggs. I used a standard poaching pan but if you have awesome cook skills then try your hand at DIY poaching.
While the egg is poaching and the skins are crisping (timing is everything with this meal), get working on your hollandaise. In a glass bowl, whisk together the egg yolks and lemon juice until smooth. Melt the butter so it's a liquid, but make sure it's warm rather than hot.
Place the bowl containing the egg yolks over a small saucepan of boiling water (ie a double boiler, but make sure the bowl isn't touching the water). Whisk constantly while pouring in the warm butter and continue to whisk for a few minutes as it thickens.
Once the sauce reaches the desired consistency, take it off the heat and cover to keep it warm. If it thickens too much just whisk in a tsp of warm warm until it thins out again.
Assemble the brunch by plating the potato skin, topped with a slice of ham/bacon, topped with a poached egg and with a generous dollop of hollandaise on top.