Sweet Potato-Sausage Biscuits
A great addition to breakfast and something other than the typical 'hash' most of us Paleo folks through together with such leftovers! Perfect for a non-traditional 'egg sandwich' with all the best components and none of the junk! 😉 Would also be good as a side for a delicious, hot bowl of stew, soup or chili.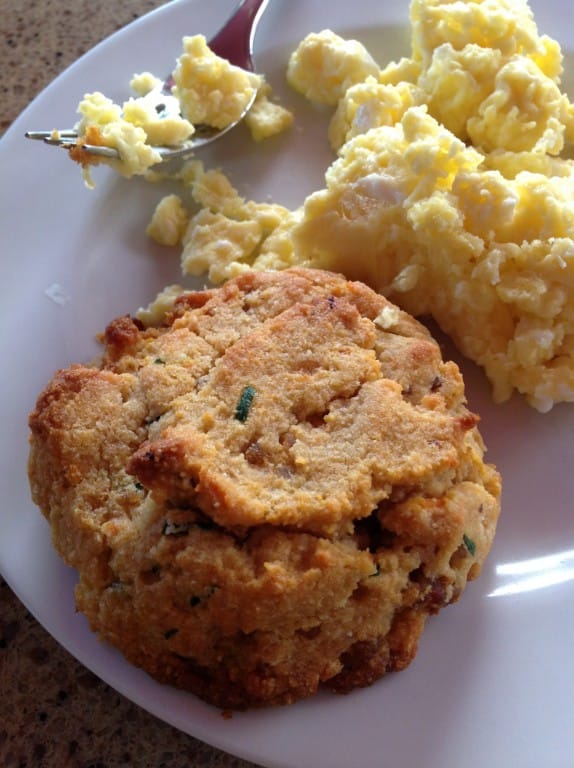 Ingredients
3/4 C almond flour
3 Tbsp coconut flour
1 Tbsp arrowroot starch flour
1/2 tsp baking soda
1/2 tsp sea salt
2 eggs
1/2 C coconut oil melted (if you save your nitrate/nitrite free bacon grease sub out a couple Tbsp of the coconut oil with some bacon grease, YUM!)
1 Tbsp maple syrup
1 Tbsp finely chopped chives or one green onion, white and green parts
1/2 C sweet potato, roasted and mashed
1/2 C sausage, cooked, drained and finely crumbled
Directions
Preheat your oven to 350 degrees.
Mix all the dry ingredients in a medium large bowl. Combine the eggs, melted oil and maple syrup, whisking the eggs well. Pour wet ingredients into the dry and mix to make the biscuit dough. Fold in the sweet potato first until your dough is a lovely light orange color. Finally add the sausage crumbles.
Dough will be thick. I used a large ice cream scoop, about 1/4 C, for each biscuit. The recipe makes 8 biscuits. Bake for 18-22 minutes. Start checking at 18, biscuit should be somewhat firm to the touch so don't take them out if they seem a little mushy!
Serve warm from the oven with some eggs if you are so inclined. These are best served warm as I have discovered they get a tiny bit soft in fridge, still good reheated though!