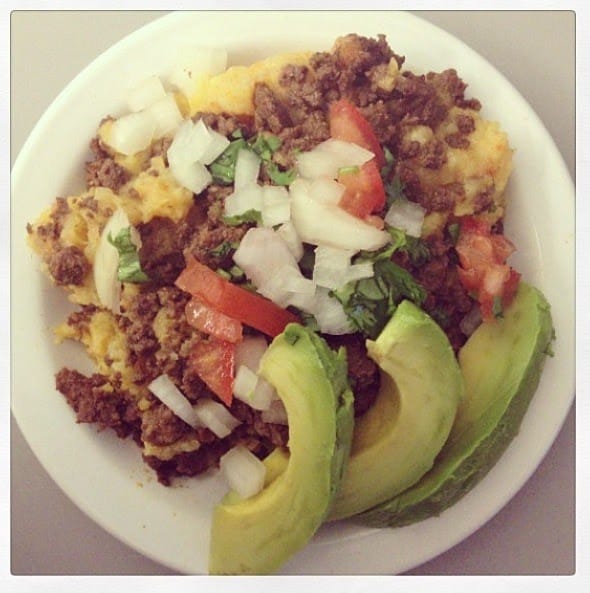 Ingredients
2 sweet poatos, peeled
1 carrot, peeled
1 small turnip, peeled
sea salt
pepper
1 lb ground beef
1 1/2 tablespoons chili powder
1 teaspoon cumin
1/2 teaspoon garlic powder
1/2 teaspoon onion powder
1/2 teaspoon paprica
1/2 teaspoon crushed red pepper (or less if you don't love heat)
2 small avocados, sliced
1 roma tomato, diced
1/4 cup cilantro, minced
1/3 cup white onion, diced
hot sauce!
Directions
Cube the sweet potato, carrot and turnip. Cover them with water in a pot. Bring the water to a boil, and cook for 20 minutes. Drain the the mixture. In a large bowl, combine the vegetables, sea salt and pepper. mash them together.
In a medium frying pan over medium high heat brown the beef, breaking it up into crumbles. Mix in the chili powder, cumin, garlic powder, onion powder, paprica and red pepper as you brown the meat.
To assemble. Put a scoop of smash on a plate. Top with 1/4 of the meat mixture. Sprinkle with the toppings!