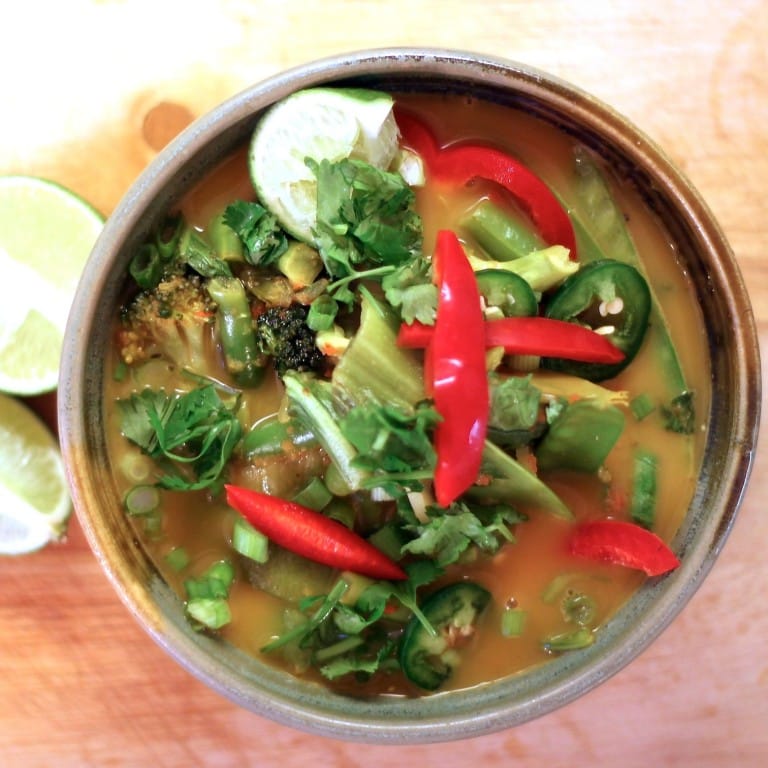 Ingredients
3 heads baby bok choy, 2 cups brocoli florets, 1 cup snap peas, 1 cup green beans, 1 sliced jalapeno, 1/2 cup bamboo shoots
2 cans unsweetened coconut milk
3 cups vegetable stock
1 yellow onion, 1 red pepper, 3 cloves of garlic, 4 tbsp. chopped basil
3 tbsp. sweet red chili paste, 3 tbsp. hot red chili paste (sriracha)
1 tbsp. garam masala, 1 tbsp. turmeric, 2 tbsp. curry powder
2 tbsp. lime juice
chopped cilantro, sliced red pepper, chopped scallions, and lime wedge for garnish
Directions
Chop up all the major ingredients to be added to the soup, including the: bok choy, broccoli, green beans, and jalapeno.
To make the curry paste, place the onion, red pepper (leaving a bit for garnish), garlic, and half of the basil in a food processor and blend until smooth. Add the chili pastes, garam masala, curry, and turmeric and stir well.
In a large pot, heat 1 tbsp. oil (chili, sesame, or peanut would be ideal) and add the curry paste. Allow to bubble before adding half the jalapeno slices. After a minute, add the vegetables so that he longest-cooking vegetables go in first and get to soften for a few minutes before adding the next. For my recipe, that meant the broccoli, green beans/peas, then bok choy. If seeming a little dry, add a little stock.
Once the vegetables are softened, add the coconut milk, stock, lime juice, and bamboo shoots. Bring to a simmer. Add the remaining basil last
Garnish with cilantro, jalapeno, scallions, red pepper, and lime.