The B**** Burger (Maple-glazed Burgers Stuffed with Bacon, Stuffed with Jalepenos, Stuffed with Dates, Stuffed with Almonds)
At first glance, this burger appears sweet, wholesome and nurturing… Get close enough to bite, however, and it\'ll deliver a kick that\'ll getcha right in the meatballs.
1.) Preheat oven to 450F. Stuff each pitted date half with a pinch of slivered almonds, also pinching the outer edges of the dates to seal. Stuff each jalepeno half with the date/almond pieces, one date/almond piece per jalepeno half.
2.) Wrap each jalepeno/date/almond piece with half a strip of bacon, and place all four bacon/jalepeno/date/almond pieces on a parchment-lined cookie sheet. Bake in preheated oven for 15-20 minutes, or until bacon is cooked through.
3.) While the bacon/jalepeno/date/almond pieces are baking, mix ground beef, egg, almond meal, salt and pepper in a medium mixing bowl with your hands until well-combined. Separate beef mixture into 4 equal balls (¼ lb each). Set aside.
4.) When bacon/jalepeno/date/almond pieces are finished baking, set aside and retrieve the beef mixture balls. With each beef mixture ball, press the center down and flatten the sides, creating a bowl. Place one bacon/jalepeno/date/almond piece inside, then seal the edges to create a stuffed ball. Feel free to flatten this a little with the palm of your hand to create more of a classic burger patty shape. Set aside.
5.) In a medium-sized pan, saute the burger patties in coconut oil, making sure to brown all sides. Remove from heat once burger is cooked to your desired \"doneness\".
6.) Using a small pastry brush, glaze the burger patties with maple syrup. For an even b****ier burger, try lightly dusting the top of the patties with Cayenne pepper. Voila! Serve with fresh greens and a sly wink ;).
[ingredients]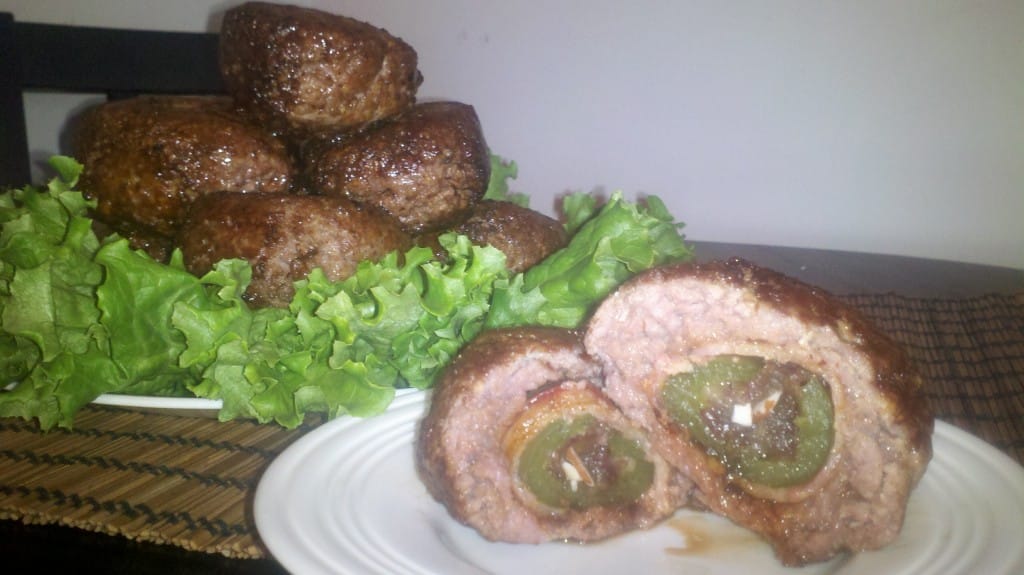 Ingredients
2 Medjool dates, pitted and halved (short way)
4 pinches slivered almonds
2 jalapenos, seeded and halved (short way)
2 slices organic/uncured bacon, halved (short way)
1 lb organic/grass-fed ground beef
1 organic egg
¼ cup almond meal
2 TBSP virgin coconut oil
⅛ cup grade A organic maple syrup
Kosher salt & freshly ground black pepper, to taste