The Ultimate Paleo Bolognese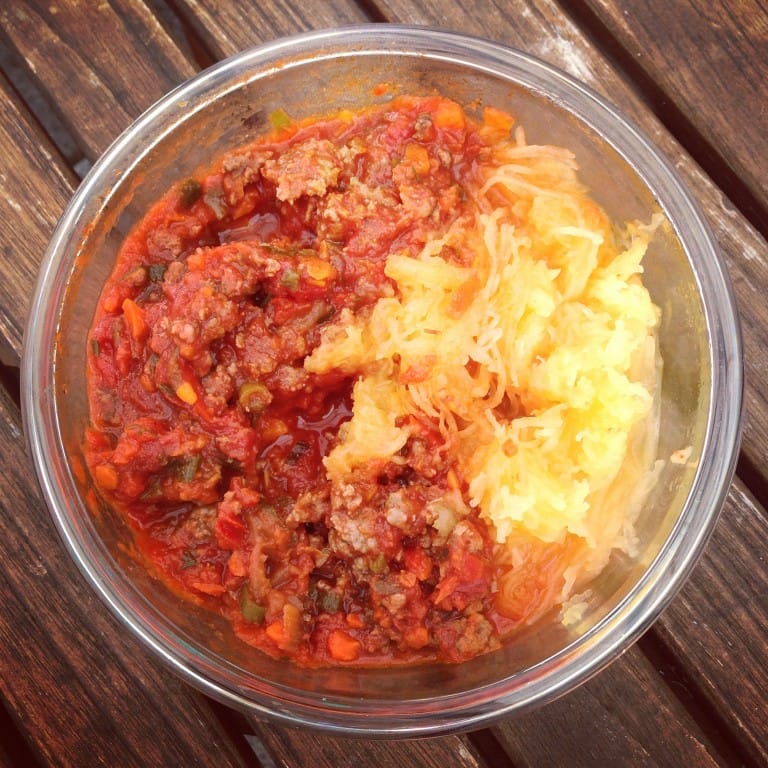 Ingredients
1 large spaghetti squash
1 Tbsp bacon fat or grass-fed butter
1 leek, finely chopped
2 large carrots, peeled and pulsed in a food processor
1 red bell pepper, finely chopped
1 Tbsp tomato paste
1/2 dry white wine (or chicken stock)
2 tsp cumin
1/4 tsp red pepper flakes
2 tsp dried Italian herbs
1/4 tsp cinnamon
1 tsp paprika
1 lb. grass-fed ground beef
1 lb. crap-free Italian pork sausage, casings removed (or ground pork)
1 28 oz. can crushed tomatoes
Salt and ground black pepper to taste
Directions
Preheat oven to 400 degrees F.
Using a long paring knife, slice spaghetti squash in half lengthwise.
Pour ½ cup water onto a large baking sheet and place both squash halves face down on top.
Roast for 35 to 45 minutes or until the skin turns slightly golden and the inner squash strands separate easily from the skin with a fork.
Allow the squash to cool before scooping out and discarding the seeds.
Then, scoop the flesh away from the skin and transfer it into a large serving bowl. Set aside until the sauce is finished.
While the squash bakes, melt bacon fat or butter in a large skillet or Dutch oven over medium-high heat.
Add leeks and saute until they become translucent.
Add the carrots, bell pepper, tomato paste and white wine, and mix well. Then add the spices, herbs, salt and pepper.
Mix and cook until carrots are soft, 6 to 8 minutes. You can put the lid on to speed up the process.
Once the carrots are soft and the wine has evaporated, add the ground pork and beef, and cook until browned.
Once the meat is done, add the crushed tomatoes and simmer over medium-low heat for 10 to 15 minutes or until the sauce is well combined.
Taste for seasoning before removing from heat. Serve over roasted spaghetti squash.