Tikka Masala-Inspired Coconut Beef Curry over \"The Six C\'s\"
1. Heat coconut oil in a pot. With the heat on high, add in onions and stir frequently, then keep adding in spices/lemon juice and stirring until onions appear to be done.
2. Add in beef and cook until brown.
3. Add in tomatoes and stir well. Then add in coconut milk, almonds, and coconut flakes. Stir well, then bring to a boil. Cover and let simmer for approximately 45 minutes.
For \"The Six C\'s\" (a.k.a. Cumin-Coriander-Cinnamon-Curry Coconut Cauliflower)
-750 g cauliflower (I used frozen)
-1/2 cup coconut milk
-2 tbsp. cumin
-2 tbsp. coriander
-3 tbsp. cinnamon
-2 tbsp. curry powder
1. Boil cauliflower in a pot until soft. Drain water.
2. Mash cauliflower, slowly adding in the coconut milk. Stir and add in the spices. Keep stirring and mashing until you get the consistency that you want. (I left my cauliflower a bit chunkier, but you can certainly mash until very smooth.)
[ingredients]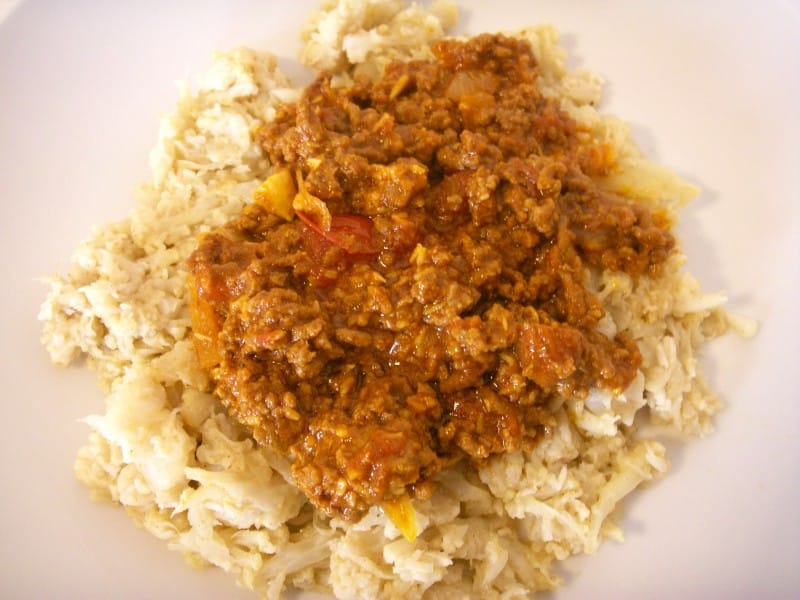 Ingredients
900 g (approx. 2 lbs) minced/ground beef, 750 g cauliflower
1 large onion, chopped; 2 tbsp. coconut oil
1 can of stewed tomatoes; 2 tbsp. tomato paste
1 cup full-fat coconut milk
2 tbsp. garam masala
3 tsp. coriander; 3 tsp. cumin, 3 tsp. paprika; 3 tsp. turmeric
2 tbsp. ginger; 3 tbsp. garlic
2 tsp. black pepper; 2 tsp. cayenne pepper; 2 tsp curry powder; 2 tsp chili powder
3 tbsp. lemon juice; 3 tsp. cinnamon
3 tbsp. slivered almonds; 3 tbsp. unsweetened coconut flakes