Tripe Sauteed w/ Bacon and Shallots
Rinse the tripe in cold water. Place in a large stockpot and cover with water and a little sat. Bring to a boil, then turn the heat down to a simmer for 2-3 hours.
Once cooked, remove the tripe from the water, strain, and let cool. Cut into 1-2 inch pieces.
Over medium-high heat in a pot or large frying pan, heat the olive oil and brown the bacon. Add the shallots and garlic. When the shallots are nicely browned, add the parsley and turn the heat down to medium. When the parsley is fragrant, add the tripe along with the salt and pepper. Sautee until coated with the bacon grease, then cover and let simmer for 10-15 minutes or until ready to serve.
[ingredients]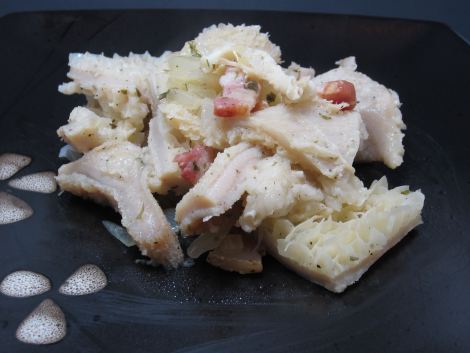 Ingredients
2 lbs Beef Tripe
4 thick slices Bacon, cut into lardons
3 Shallots, thinly sliced
3 Cloves Garlic, minced
1 T dried Parsley
2 T Olive Oil
Salt and Pepper to taste