Triple Meat Poutine [AIP-Friendly]
Poutine is a traditional Montreal dish consisting of french fries smothered in homemade gravy and melted fresh cheese curds. Sounds delicious, I know, but MSG-laden gravy and dairy don't jive with Paleo or AIP diets, so here is an AIP-compliant but still so satisfying version of my birth city's dish! To see more grain and dairy-free traditional & ethnic recipes, go to http://www.grazedandenthused.com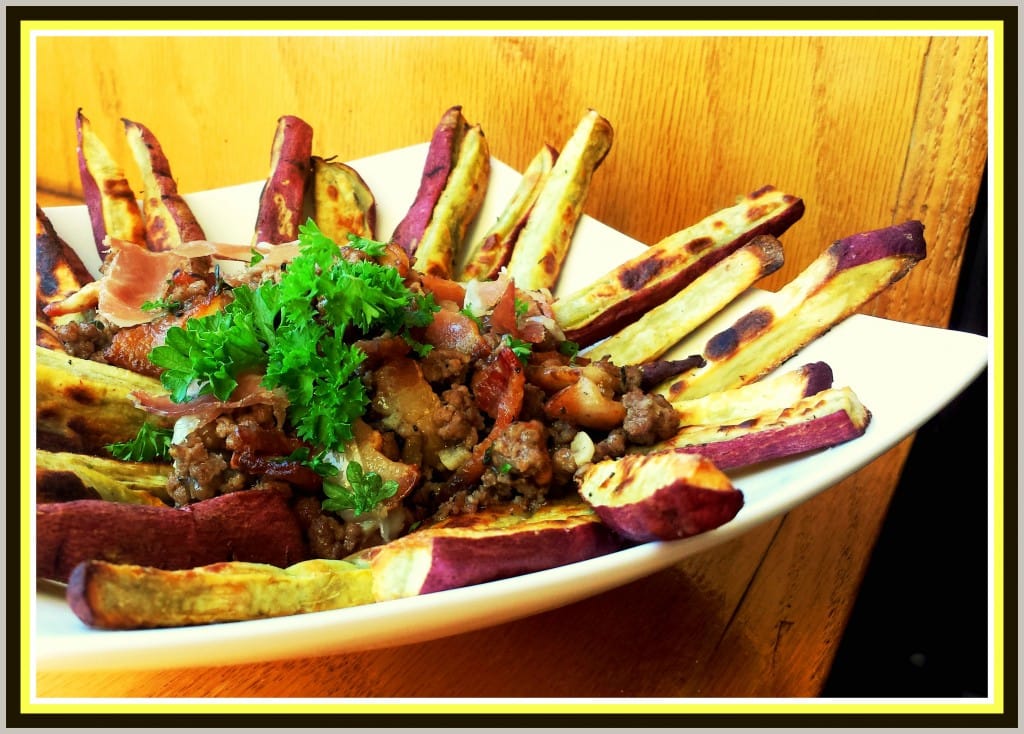 Ingredients
1 lb Japanese sweet potato, white flesh, scrubbed
1 tsp coconut oil
½ tsp each rosemary, thyme, and marjoram, finely chopped (separated)
1 T shallot, finely chopped
1 clove garlic, minced
2 slices thick-cut bacon, chopped into ½ inch pieces
4 oz ground beef
1-2 tsp arrowroot powder
¼ cup hot water
1 oz prosciutto, thinly slivered
Directions
Rosemary Fries: Preheat oven to 425 degrees. Line baking sheet with parchment paper.
Slice sweet potato into fries 2 inches long and 1/3 inch wide.
Toss fries in coconut oil, rosemary, and salt to taste. Heads up: while the fries are baking, you can make the gravy on the stove top!
Bake fries for 15 minutes on one side. Then flip and bake for another 10-15 minutes until browned in some spots.
Herb Beef & Bacon Gravy: Fry bacon in skillet over medium heat. Once crispy, remove from pan to paper tower lined plate. Keep fat in skillet!
Add shallot and garlic to pan. Sautee for 1 minute until fragrant.
Add ground beef, thyme, and marjoram. Cook until no pink in meat remains.
Whisk the hot water & 1 tsp arrowroot powder together. Pour into pan and bring to a simmer while constantly stirring. Simmer the beef gravy until most of the water is absorbed. Use the leftover 1 tsp arrowroot powder to thicken it up, if too much water remains after 3-4 minutes of simmering.
Stir in chopped prosciutto and bacon. Top fries with gravy and eat with a fork!