NOTE: If you have questions or comments you wish me to respond to, please post them at the original post at the blog: http://strictlypaleoish.com/2013/04/28/truffle-deviled-eggs/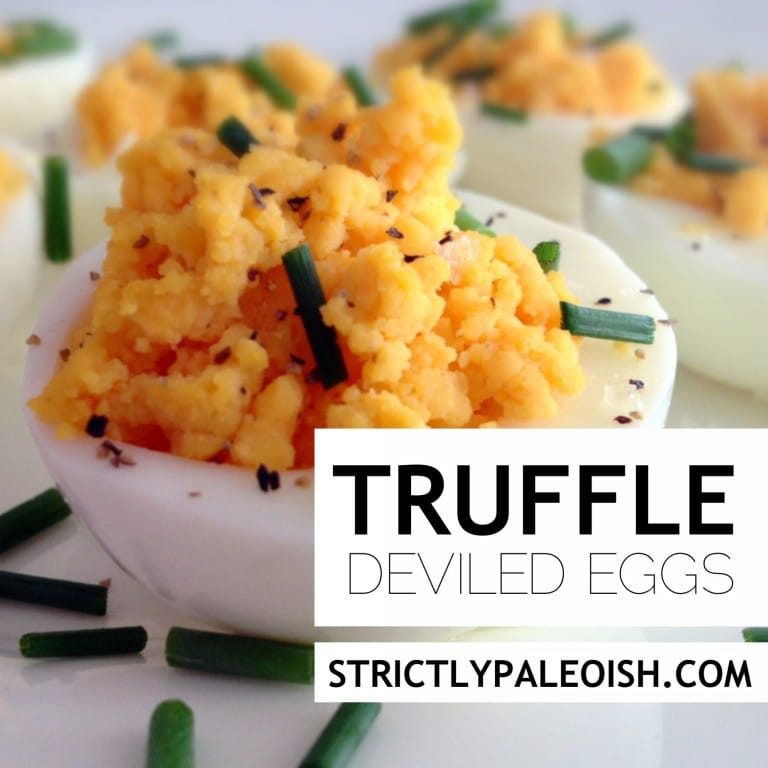 Ingredients
INGREDIENTS PER TWO EGGS:
2 Eggs.
1 tsp Truffle infused Extra Virgin Olive Oil.
Ground White Pepper, (to taste).
Chives, (chopped).
Crushed Black Pepper.
Flaked Sea Salt.
Directions
Place the eggs in a pot and cover with water.
Bring to a boil, then remove the pot from the heat, cover with a lid and let stand for 10 minutes.
Rinse the eggs under running cold water for a minute or so, then peel them.
Cut the eggs in half, remove the yolks and place them in a bowl.
Mash the yolks with a fork, add the truffle oil and dust some ground white pepper over, then mash some more to get the seasoning mixed in.
Evenly distribute the mashed yolks back on to the egg whites, then a little bit of sea salt, black pepper and chopped chives on top.